Posted at 6:20 PM on January 4, 2008 by Euan Kerr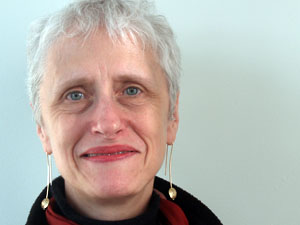 Sara Paretsky has done well by V.I. Warshawski, the hard-boiled woman private detective who has now appeared in a dozen of her novels.
V.I. has a lot of fans, and so does Paretsky. V.I. also had a movie, made in 1991 - but Paretsky is no fan of that.
"It was a bad movie," she says.
She says she was unlucky and lucky in the way it happened.
She says the advance from the film company came at a good time. She had written her first three books while also working as a marketing manager. The advance gave her some financial security for a while, and allowed her to quit her day job,
But as time passed she began to have her doubts. She says the movie was badly thought out, and the producers were scared about putting a strong woman on the screen, and made things worse by not allowing any women to work on the script, and aiming all the action and the jokes at a teenage boys.
"It wasn't the right audience," she says.
"I really did feel invaded by Disney when they were in the process of making it."
She remembers walking in the house, jet-lagged, having just stepped off the plane at the end of a European trip. The phone was ringing and it was an advance man in town to scout locations.
"That was when I knew they were going to make the movie. I didn't know that was going to happen. I just thought it was one of these properties that would just die, because it had been five years since they had done the deal," she says.
Paretsky offered to show him around, but he said it wouldn't be necessary.
"'I just wanted to let you know that I am working on the product that you used to work on.' And I was like 'The product I used to work on? This is my heart, my soul, my creation - not a product!' And it got worse from there."
Paretsky says it got worse and worse, and she was dreading actually seeing the film. But when she did, something wonderful happened.

"It was like, just by some odd co-incidence, two people thought of a private eye who was called V.I. Warchawski, and other than that they had nothing in common with each other. And it was such a relief because I hadn't been able to write in the six months that they were in production, and then as soon as I saw the movie, she belonged to me again, and I went home and finished the book that I was working on."
You can hear her tell the tale here.