So who's been paying attention? The 2007 Movie Natters Quiz
Posted at 12:00 PM on December 31, 2007 by Euan Kerr (2 Comments)



A lot of intriguing people have passed through the Movie Natters portals over the last year.
Just for fun here are a few questions and a chance to catch up on the stories you may have missed.
(One of the people to the left here is one of the answers. Just ignore the guy with the beard.)
1) Which local writer sneezed and then worried about possible allergies to highbrow radio?
a) Lorna Landvik
b) Emily Goldberg
c) Colleen Kruse
d) Diablo Cody
Answer: It's all in the details

2) What new medium did Rolling Stone Magazine's Mexican edition use to advertise it's movie stories?
a) tattoos
b) bumper stickers
c) snack foods
d) baby food
Answer: Think green and orange

3) Which locally-made thriller consists of a single 75 minute shot?
Answer: Shhhhhhh!

4) Which local film maker was stopped from going to see a cinema by a welded manhole cover?
Answer: Get tuneful!

5) Which French director said directing non-comedy films is like taking a vacation because they are so much easier to do.
Answer: He wrote "La Cage Aux Folles" (I & II!)

6) Which St Paul suburb lost 2 movie theaters this year, and gained one with a chilly entrance.?
Answer: Head towards the Oval
7) Which local writer ended up covering his 12 year old daughter's eyes during a screening of "Pan's Labyrinth" after director Guillermo del Toro told him the blood-soaked story was appropriate for younger viewers because as he said,"When I was 12 I would have loved this movie."
a) Charles Baxter
b) RD Zimmerman
c) Neil Gaiman
d) George Rabasa
Answer: It's fantastic
Extra credit: What do "Pan's Labyrinth" and "Fantastic Four: Rise of the Silver Surfer" have in common?
Answer: You'll need your film Jones for this one.

8) Which Swiss director claimed to know only 35 words of English, so for interviews he just uses them in different combinations?
Answer: Like his name, his film's title could be said in different ways.

9) Which writer described writing a screen adaptation of a friends novel as like "snogging your friend's mum - and then he walks in?"
Answer: You might need a timetable for this one

10) Which film maker said the biggest legal problem he had with his new film which deals with remakes of classic films, was not with the rights to using the plots, but to showing the images of VHS tape box covers.
Answer: Don't lose sleep over it

11) What is the connection between Eric Zala, Chris Strompolos, and Steven Spielberg?
Answer: It's more than that one of them won a Kennedy Center Honor and the others didn't.

12) Which British writer told this story about a strange night at home: "Sure enough at the appointed time the telephone rings. And I look at my girlfriend, and she looks at me and says 'Well, you best go and speak to Nicole Kidman.' Perhaps the most surreal moment of my life. But she was really lovely and she was really complimentary about the book, and she said 'You know I really enjoyed it.' I think she actually read it herself and took it round some studios saying 'Will you buy this for me?' which is wonderful."
Answer: You'll need an answer with bite

13) Which Oscar nominated actor honored a deceased brother by making "the most expensive family movie" ever?
Answer: Think feet

14) Who lost more money in a libel suit over a publicity pamphlet in his homeland than he made in the release of the film it was publicizing?
Answer: You'll need to name a lot of names.

15) Which director, whose first film cost $60,000 and made $140 million at the US box office alone, now says "straight-to-DVD" is not an insult?
Answer: It's scary
16) Which Hungarian director found himself directing a duet of famous actor mother-daughter pairings (and ended up taking a kicking from the critics?)
Answer: A name with a j

17) Which director hated the subject of his latest film as a child, but made the movie as a tool for schoolteachers so other students wouldn't suffer as he did?
Answer: Don't be a skinflint, or at least a miser.

18) What delighted actor Lynn Redgrave as she left the MPR studios in July?
Answer: Say cheese!

19) What happened to the small town featured in "Local Hero" this year?
Answer: It's a wash

20) What rare 1981 footage got shown just once at the opening of the Sound Unseen Festival this year?
Answer: 1-2-3-4

21) How did Steve Wiebe (left) who was famous within a particular highly-skilled world, get more famous this year?
Answer: It'll just cost you a quarter, but you'll have to wait till he's done.

22) Which action star with a family friendly hit is now asking to be called by his name, or his name wrapped around his nickname, but never by his nickname alone?
Answer: It's a hard one

23) The folk behind two films this year claimed their next movie would be on paint drying. What were the subjects of their documentaries.
Answer: Every farm needs a little bit of this and a little bit of that.

24) Who when asked about why one of his films is 10 hours long said sometimes you write a haiku and some times your write "War and Peace."
Answer: You'll need a beautiful answer

25) Which film maker fears the media is trying to make him communicate with his subjects through soundbites on celebrity news shows?
Answer: Make a splash

26) Which Minneapolis film maker was astonished by Pete Seeger's home movies?
Answer: His next film is on Harry Belafonte.

27) Which Minneapolis film producer has dabbled in a photographic fantasy, the Alaskan wilderness, and Chinese espionage in the last year?
Answer: You'll have to swing for the fences.

28) Which Minneapolis actor doesn't like the term "mumblecore" despite appearing exclusively in mumblecore movies?
Answer: Don't spare the mayo.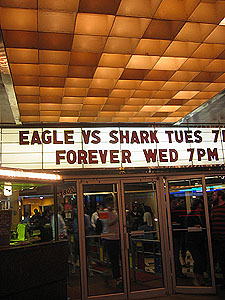 29) Which Minnesota film maker teamed up with a former US Marine to make a film about the tragedy in Darfur?
Answer: Again its in the details

30) Which big name British screenwriter had to cancel a visit to Minnesota for a reading of his script based on a former City Pager's memoir about her con man father, because he had to try to finish another script before the writers strike?
Answer: He's worth his bread and butter

31) Who announced her ambition is to be "the world champion of smokers?"
Answer: She says a comic book is not a storyboard.

32) Which international film star loved the radios?
Answer: He hangs with high-flyers in his latest film

33) Which local movie impresario finally admitted his age this year.
Answer: He's 85!

34) How did the producer of the Bob Dylan "bio-pic" "I'm Note There" respond to the question of whether Dylan has seen the film?
Answer: The answer is blowing in the wind

35) Which film maker met Clash member Joe Strummer while pilfering milk?
Answer: Unlike "Earth Girls" it ain't easy.
36) What does John Waters consider his only subversive act?
Answer: Think Baltimore
---
Comments (2)
Hope you know the answers to all these questions! ss
---
I read the quiz right through and knew none of the answers although I know I should have known at least two! Must have taken you ages, but I was dismayed when I saw that you had posted it at 12 on 31st December! Hogmanay! Dearie me....
---