It's that time again: 10 seconds
Posted at 5:30 PM on June 18, 2007 by Euan Kerr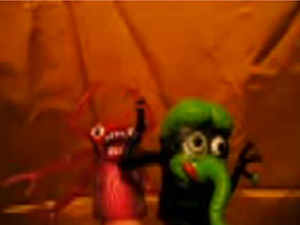 A note came into the MPR e-mail bag today mentioning that you have just over a week until the deadline for the Third Annual 10 Second Film Festival.
This is the event aimed at those of us who have machines which can make movies, but which aren't actually movie cameras. And given the 10 second time limit, you don't need a big production budget.
Chris Roberts did a profile of the competition last year and now you can see many of the films mentioned in the piece on a ten minute compilation on (where else?) YouTube. (Be warned, some of them are a little risque.) The film also includes some of the award winners speeches as the their pieces were shown before a crowd of over 1,000 people outside the Soap Factory on July 4th.
Organizer Chris Pennington says he's never sure how many films he's going to get. Last year they got 320.
The target this year? "A bunch," he says, "Four Hundred!"
He says that the bulk of the entries come pouring in in the last three days before the deadline.
One change this year is with the new Apple computers with a built-in camera, they have been added to the list of devices that are eligible for contestants to use.
Another change is that instead of having multiple presenters for the awards, they are just going to use Ian from "Drinking with Ian" the self=described 'world's most dangerous talkshow.' There will also be a pre-show with the entries from Grain Belt Beer's "Shoot your own commercial competition."
"So," Pennington said, "Are you going to send me one?"
"A Grain Belt?" I asked, somewhat confused.
"No! A film!"
I never was very quick on the uptake. The deadline is June 23rd and you can get details at the festival's site.