Free Festivities for "Sweet Land"
Posted at 4:20 PM on October 6, 2006 by Euan Kerr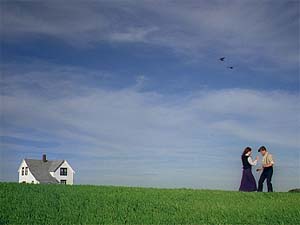 After a decade and a half of work local film director Ali Selim's debut feature "Sweet Land" gets what their calling it's theatrical "World Premier" next week in Minneapolis. (I know it's been shown here at least three times already, but work with me here.)
The film has a distribution deal, and it's getting a gala invitation only launch next Thursday at the Lagoon with film stars, bright lights, and all that stuff.
Leading up to that the distributors will celebrate the immigrant themes of the "Sweet Land" story with "America, America" a free film festival at the Edina.
The films are:
Monday 10/9: "The House of Sand and Fog" (2003)
Tuesday 10/10: "Spanglish" (2004)
Wednesday 10/11 "Alambrista!" (1977) (Attended at 7.10 screening by Ned Beatty, who stars in both "Alambrista!" and "Sweet Land.")
Thursday 10/12 "Hester Street" (1975)
There will be three screenings each night (please check times) All screenings are free.
In The Spotlight
Your daily note for good music, news and pop culture. With attempted jokes.