The Seven Year Itch
Posted at 10:59 AM on August 25, 2006 by Euan Kerr

There are various ways of measuring out your life. For some of us a crucial milepost is the arrival of the latest installment of Michael Apted's "Seven Up!" series.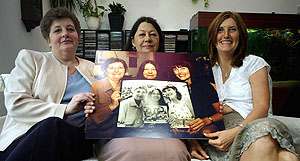 Originally begun in the sixties as a special for Granada TV in Britain Apted has been interviewing a disparate group of young Britons every seven years. It was initially an exploration of class, and that's been an important element in the films over the years. Yet as the films have appeared over the years these people have entered our lives as people who matter. There has been joy, sadness, love, marriage, divorce along the way. And of course there is Neil, the bright youngster who seemed to be considering suicide as he wrestled with his inner demons, but then ended up as a suburban politician in London.
Now they are 49, and I can't wait to see what's happened. The movie will get to Minnesota in October. In the meantime we devotees will just have to make do with the trailer.
It's thought-provoking stuff. You can read what thoughts the series provoked for MPR's Gardening blogger Preston Wright right here.
In The Spotlight
Your daily note for good music, news and pop culture. With attempted jokes.