Ali Selim nears the finishing line
Posted at 5:06 PM on April 12, 2006 by Euan Kerr (3 Comments)

I spent part of the morning chatting with Ali Selim, the St Paul based film maker whose first feature "Sweet Land" has been selected as the closing gala for this years 2005 Minneapolis St Paul International Film Festival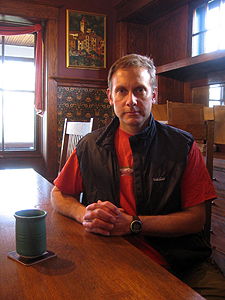 There's always a story behind the making of a movie, and in this case it's been 16 years long. It began when Selim read a Will Weaver short story called "A Gravestone Made of Wheat" in the Star Tribune's Sunday magazine. He admits he teared up when he was finished. It's a love story set against the hard realities of life on the edge of the plains around the end of World War I. It reminded him of stories his his grandparents told him of life on the farm, and he knew he wanted to make a film with it.
After a lot of work, and the producing help of his wife Robin, and a script development program in LA, he put together a heavy-hitting cast including Alan Cumming, John Heard and Ned Beatty. They all headed to Montevideo in late 2004 to shoot the script.
Selim says that while he had a great time during the shooting, the 24 days are really just a blip in a decade-and-a-half long effort. It seems to have paid off though. He is now still working towards a distribution deal, but he is confident it will happen. And he already has three more feature films in the works as a result of "Sweet Land." He says he has high hopes they won't take 16 years to do.
---
Comments (3)
As a passionate environmentalist and filmmaker I am deeply impressed by Selim's committment to make a "greener" film.
I applaud his goodwill and earth friendly methods.
I would love to connect with Ali to tell him about a new distribution model that will transform the way we get films to a wider audience.
Warm cheers,
Carolyn Scott

---
I loved the movie, and grew up in Lac Qui Parle County.
I would like to let Mr. Selim know and PBS that it would be so nice if this could be aired on the PBS.
Wonderful movie. Thank you.

---
I'm a native Minnesotan now living in Kentucky and saw the movie last night with my husband and mother. We just loved it: the character development, the pace, the scene, the story. Simply beautiful. Thank you for such a lovely film.
Judy Brennan
---