Posted at 5:06 PM on April 12, 2006 by Euan Kerr (3 Comments)

I spent part of the morning chatting with Ali Selim, the St Paul based film maker whose first feature "Sweet Land" has been selected as the closing gala for this years 2005 Minneapolis St Paul International Film Festival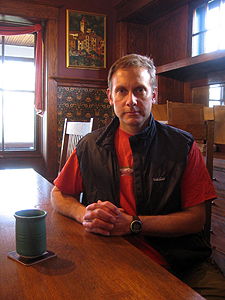 There's always a story behind the making of a movie, and in this case it's been 16 years long. It began when Selim read a Will Weaver short story called "A Gravestone Made of Wheat" in the Star Tribune's Sunday magazine. He admits he teared up when he was finished. It's a love story set against the hard realities of life on the edge of the plains around the end of World War I. It reminded him of stories his his grandparents told him of life on the farm, and he knew he wanted to make a film with it.
After a lot of work, and the producing help of his wife Robin, and a script development program in LA, he put together a heavy-hitting cast including Alan Cumming, John Heard and Ned Beatty. They all headed to Montevideo in late 2004 to shoot the script.
Selim says that while he had a great time during the shooting, the 24 days are really just a blip in a decade-and-a-half long effort. It seems to have paid off though. He is now still working towards a distribution deal, but he is confident it will happen. And he already has three more feature films in the works as a result of "Sweet Land." He says he has high hopes they won't take 16 years to do.
Posted at 5:15 PM on April 12, 2006 by Euan Kerr

For those of you looking for the 2005 Minneapolis St Paul International Film Festival schedule: I just talked with Laura Milan who has spent the last few days getting the festival catalog to the printers.
She says the festival now has some 200 screenings scheduled between the 20th and the 30th of this month. All being well, the schedule will be posted on the MSPIFF website by the weekend. At that time it will also be possible to buy tickets for specific shows on-line.
An eight page festival insert will go out in the April 19th issue of CityPages. Milan says the festival catalogue will be available in it's entirety on-line as the hard copies won't be available until just before the first events.