Sweet Revenge
Posted at 5:15 PM on March 9, 2006 by Euan Kerr

Oscar nominated director Christian Carion says he doesn't mind that he didn't win the "Best Foreign Language Film" award Sunday night. He says he is just grateful that the publicity "Joyeux Noel" ("Merry Christmas") has given a tale he says was censored in France for 90 years.
Carion came to MPR today to chat about his film which will open locally on March 24th. "Joyeux Noel" explores the Christmas Truce of 1914 when French, German, and British troops stationed in the trenches in northern France laid down their guns and celebrated Christmas together. They sang carols together, toasted each other's good health, and, being European, played soccer. They even in some places celebrated mass together. Many exchanged addresses so they could write or even visit each other after the war.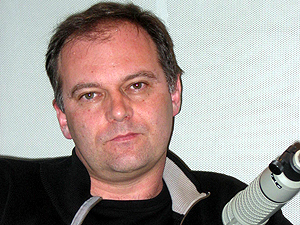 Christian Carion
Then they went back to their trenches and when Christmas was over, they returned to trying to blow each other to bits.
Carion said that when word got back to the military authorities on all sides they saw the truce as an act of rebellion. The soldiers letters describing what happened were seized and censored. The story essentially disappeared.
Carion looked tired when he told this story. He's been on the road since the Cannes Film Festival promoting the movie. But his eyes flashed and he smiled when he said he really doesn't want to spread a message with "Joyeux Noel." He's just revelling in sticking it to the people who hushed up a human story in the depth of war by spreading that story around the world. "It's revenge," he said. "It's revenge."
He's off to Japan next week to continue his work.
We'll air the interview closer to when the film opens here.