Meeting Rupert Murray
Posted at 5:32 PM on March 17, 2006 by Euan Kerr

The director of "Unknown White Male," Rupert Murray, walked into the MPR studios clutching an underdone burger and looking not a little tired. We always seem to get these guys near the end of their media tours and you just hope they are going to get through an interview OK.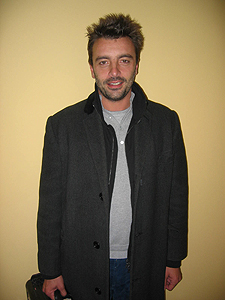 They always do of course. After he tossed the burger in the trash with an alarming thump, we chatted for close to half an hour about the strange story of his friend Doug Bruce.
Bruce found himself riding a train through a city he did not recognize, having completely forgotten who he was. He was later diagnosed with a rare form of amnesia.
In an interview conducted just days after he lost his memory Bruce looks terrified. He stutters and shakes, a very different man from the suave individual before and after the dramatic days of the onset of amnesia.
The film examines the importance of memories in creating who we are are individuals. It also looks at how much of our memory is not composed of things we actually remember, but things we have been told.
Doug Bruce lost his memory in 2002 and it has yet to return. He has spent the years since filling in his tabula rasa. Murray followed him as he saw the Pacific for the first time (again,) and visited London, where he spent his young adulthood, but of which he had no memories. It's fascinating to watch a grown man go through a childlike voyage of discovery.
Murray says Bruce has been told about his personal history, and can recount it with ease. He says now he doesn't want to get his memory back. The film shows how his family and friends seem to have been more emotionally effected than Bruce himself.
Rupert Murray says he sees his friend as a better person now because as he relearns about the world, without having to build some of the defensiveness which people develop growing up. He calls him a "sound individual."
It's a tough way to get to that point though.