Lili Taylor drops by
Posted at 5:12 PM on February 3, 2006 by Euan Kerr

Her plane was an hour late, but she drove herself across town to the MPR studios to chat. Lili Taylor was a delight to meet: filled with energy, and clearly pleased to be the subject of the Walker Art Center retrospective "Lili Taylor: Independent Spirit" which starts tonight with "Factotum."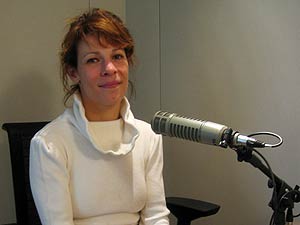 She will introduce the film with director Bent Hamer and producer Christine Walker tonight, and then Saturday night she will appear in a Regis Dialogue with B. Ruby Rich. Both events are sold out.
Looking back at the dozens of movies in Taylor's filmography it's amazing to see who she has worked with, from the early days with Julia Roberts in "Mystic Pizza," through two Altman movies ("Short Cuts" and "Pret-a-porter") Mel Gibson in "Ransom," all the way up to Matt Dillon in "Factotum."
When asked which movie people should especially watch out for in the Walker series, she said her choice would be "Arizona Dream" which she made in 1993 with Johnny Depp.
It's an absurdist comedy about a man called Axel (Depp)who counts fish for a living. The plot gets stranger from there, and gets a little complicated but lets just say Taylor plays his love interest. She says the film only had a very limited run in one theater, and she doesn't think it's available on DVD. It plays at the Walker on Saturday February 18th.
In The Spotlight
Your daily note for good music, news and pop culture. With attempted jokes.