Leggo my Blago-jevich
Posted at 5:00 PM on January 29, 2009 by Steve Mullis
Filed under: News, Politics

So that's it, that's all she wrote. Gov. Rod Blagojevich of Illinois is out of a job. The Illinois State Senate voted to kick him to the curb.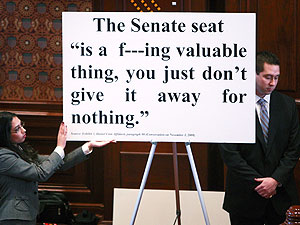 (Photo by Scott Olson/Getty Images)
You've got to admire the guys moxie though. They have taped conversations of him saying these things, the nation has heard them and they have witnesses to corroborate most of what is heard on the tapes. Yet, throughout this process Blagojevich has insisted that there has been no wrongdoing on his part.
Today in the hearing Blagojevich said:
"You haven't proved a crime, and you can't because it didn't happen. How can you throw a governor out of office with insufficient and incomplete evidence?"
To me, that's like Jack Ruby looking at the picture of him shooting Oswald and saying: "No way, that proves nothing. I didn't shoot him, you have no evidence."
On top of that, Blagojevich presented no real evidence to prove said innocence. He just repeated the line that he did nothing wrong (which I'm sure was coupled with plenty of clicking of the heels). I think he was basically counting on a Jedi mindtrick or other mystic intervention to allow him to skate by unscathed and with his governor seat intact.
The more interesting part here is, it seems Blagojevich does not even know what he is being impeached for. He claims there is no evidence that there was any wrongdoing or that he physically committed a crime. That he never actually did anything, so he is innocent. However, the crime he is guilty of is conspiring to committ another crime, like the way they get mobsters in those RICO things.
So what now for Blagojevich? What comes next? Perhaps a new job or maybe even a new haircut. If he keeps his excellent boyscout coif, he has an great future as a circa 1986 used car salesman.
Any current or former Illinois-ans out there want to weigh in?