Posted at 11:15 AM on January 14, 2009 by Jeff Horwich

Fun shout-out from our friend, U of M climatologist Mark Seeley, in a Star-Tribune interview this morning.
Here's our cameo:
Q What are some of the more unusual assignments you've had?

A About four years ago, I did a show on MPR, "In the Loop" ... along with some rap artists. Unbeknownst to me, they invited me to be part of the rap they contrived with weather jargon in it. I wasn't prepared to be a rap artist. But we had fun with it. They probably still have that audio. I told them, "Burn it please.''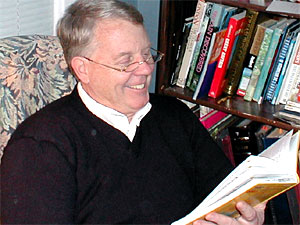 Mark is so humble. Yes, we did kind of throw a curve-ball at him, but he was awesome. It's one of our most unusual moments as well, but also one of our favorites. Mark is a great sport -- and a near-great rapper (as our hip-hop artists on the show affirmed).
And here at MPR, of course we archive everything (no burning allowed).
Here is a link to listen to that segment. (Since this is from back in the day, it's in RealAudio format. And if you think my style is a little different, this was from four years ago -- the very first show we ever put on the air.)