Star-Tribune and Pioneer Press combining headline-writing staffs to save money?
Posted at 9:59 AM on November 19, 2008 by Jeff Horwich

In these tough times, you gotta wonder.
Last week, I woke to the same headline across both front pages:
WHY IT FELL
(This was after the NTSB approved its findings on the 35W collapse.)
Then today:
Ready...Set...RECOUNT!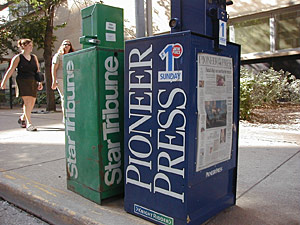 (Marking, of course, the fact that the recount in the Minnesota Senate race is actually going to begin. Does this mean we can stop talking about it? Lord no!)
Either the cross-town rival papers are working together...(unlikely, of course)...or it's kind of a sad commentary on the state of creativity on the copy desk ("Ready...Set...Recount?" Ugh.)
In The Spotlight
Your daily note for good music, news and pop culture. With attempted jokes.