Posted at 12:25 PM on May 5, 2008 by Jeff Horwich (3 Comments)

I knew that if we included the song in our most recent Story Slam, it would spark a fresh round of curiosity, celebration, and trash-talk about central Minnesota's own self-appointed superhero.
Young Jeff interviews the Man of Granite (City)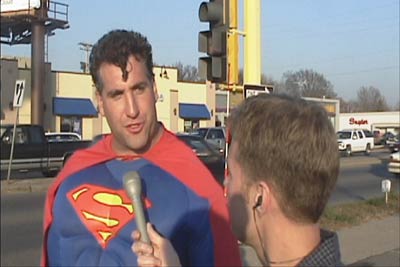 I wrote the song in late 2001 (maybe early '02?), after doing
a feature story
for MPR, where I had been on the job for a few months as a reporter based in St. Cloud (while the local paper followed with a piece a few weeks later, I believe we were the first). After passing him every day on my way home from work, I finally just pulled over and asked him what his deal was. He had only been out on the corner for a few months at most, at that point.
When I pulled over, some local college students were working on a documentary. I gather it took a few years, but it eventually became this short film. I think the film benefits from its extended production timeline, since St. Cloud Superman evolves somewhat as years go by. This is definitely recommended viewing.
The song arose partly because of the complicated reaction to the MPR story. The story was an open-ended portrait of a local character; but to some, St. Cloud Superman is a jerk and a dangerous threat. Who am I to issue a verdict? (Though state records at the time showed he is not, as some have insisted, a registered sex offender.) The song was an attempt to capture the contradictory and controversial enigma that is St. Cloud Superman.
Again, I wrote this song
seven years ago
. A solo performance (at left) has been getting good traffic on YouTube, and the debate
in the comments
captures exactly why I wrote the song in the first place.
This latest Story Slam (theme: "Achilles' Heel") seemed an appropriate radio debut of the full-band version:
St. Cloud Superman is well-documented on the web. Here's a taste:
Vindication at last?
Google around a bit. Plenty of chatter out there (including his alter ego, which has never been much of a secret).