Sunday, September 25, 2016
A year of the veto?
Posted at 8:26 AM on January 5, 2007 by Bob Collins
First, this announcement: waiver claims are due by 5 p.m. today. The form is available under the "resources" section on the MFL home page. Also, the House Information folks have just published the first Session Weekly (pdf). This is great resource for planning your squad. That takes care of the housekeeping.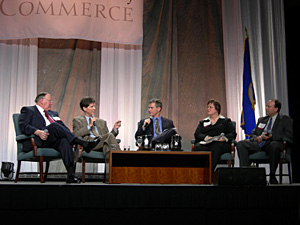 I've suggested in previous pontifications that the "quiet bills" could be the key to scoring big points in Fantasy Legislature. But now it's beginning to appear that if a major bill can avoid becoming an omnibus bill (the MFL version of the "franchise tag"), it can score some points with a little luck.
Yesterday, of course, the DFL senators tossed in a bunch of bills with tax increases, and last night at a Chamber of Commerce event, Gov. Tim Pawlenty threatened veto city. And at a panel session last night (photo), there was still talk of bipartisanship, but the lines are clearly drawn. (Audio of event will be posted later).
What does this mean for points? Lots of hearings, for one. A possible veto for another, and maybe an override. At 100 points for an override, maybe a big bill can be a difference-maker.
One of the most interesting issues -- that could take early shape with several bills -- is the sales tax increase for natural resources and -- maybe -- the arts. Any bill that has the capacity to pit supporters against supporters (arts patrons vs. sportsmen) could wallow around accumulating hearing points.