Category Archive: Unexpected Classical
Posted at 1:15 PM on August 8, 2014 by Luke Taylor (0 Comments)
Filed under: Fun finds, Unexpected Classical

Margaret Hutto via YouTube

Maybe it's because there's not a lot of water in Texas. But these kids from an elementary school in the Dallas-Ft. Worth area pull off a pretty entertaining synchronized-swimming routine during their school's talent show.
Classical MPR's Jodi Gustafson spotted this video online and shared it. The music is Johann Strauss's Blue Danube Waltz.
We're pretty sure the music and the video will make you smile. Even without water, these kids make a splash.

(
0 Comments
)
Posted at 5:00 PM on July 10, 2014 by Luke Taylor
Filed under: Fun finds, Unexpected Classical
This week on Classical MPR, we've been celebrating the World Cup with Morning Glories picks that have connections to or are inspired by soccer. Now, we've found a video that is inspired by soccer and includes classical music.
First a bit of context: During the 2014 FIFA World Cup Brazil, scrutiny has been placed on players who exaggerate the effects of physical contact — known as "diving" — in order to sway the referee's opinion.
Following the Netherlands' 2 - 1 defeat of Mexico in the round of 16, for example, Dutch forward Arjen Robben admitted diving and apologized for having done it in the game (although he said it was not the fall that led to the decisive penalty in that match).
With this topic in mind, the staff at Fourgrounds Media, Inc., a video production company located in St. Catharines, Ont., put together this amusing video that imagines what life would be like if we reacted to contact in our everyday interactions the same way some soccer players choose to react on the pitch. And for the music in the video, the producers chose "In the Hall of the Mountain King" from Edvard Grieg's Peer Gynt.
It's a fun video; note that if you can read lips, there's one lip-reading language advisory. Otherwise, enjoy the music and the laughs. (h/t Toni Karlsson)
What do you think of the use of Grieg in this video? Do you like it, or is there a different piece of music you would have chosen?
Posted at 9:56 AM on May 9, 2014 by Julia Schrenkler
Filed under: Unexpected Classical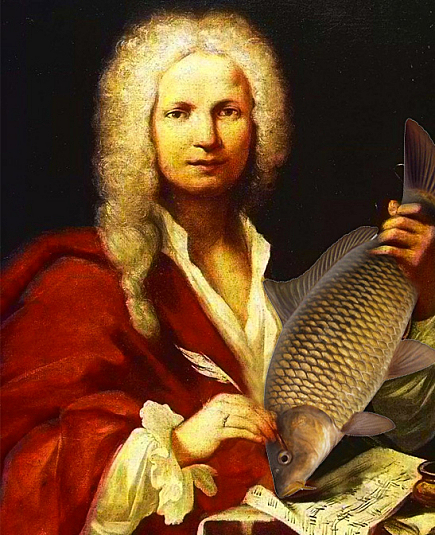 King Louis XV took a liking to 'Spring' and ordered it to be performed at the most unexpected moments.

-
Aaron Green in Antonio Vivaldi's Four Seasons: Notes, Historical Information, and Sonnets
Like that monarch hailing from the House of Bourbon, I like 'Spring' and enjoy hearing it in unexpected moments. But it took me by a bit more than surprise in this (not for the squeamish) video outlining how to clean the common carp:
Considering the Four Seasons sound and sonnets, perhaps this is not an incongruous appearance. To many the cheerful beginning evokes memories of satire on comedy television like Saturday Night Live or school outings to hear the "top" classics, but I hear only freshness and the wild. This video makes me question if we assign too much to classical music and hold it to our specific expectations when it is a passionate, terribly beautiful tangle of human experiences.
'Spring' appears in movies, at public events, and in weddings so why shouldn't it show up in a how-to video about cleaning fish? Where have you heard 'Spring' to great effect?