Category Archive: School Spotlight
Posted at 5:00 AM on December 10, 2013 by Claire Philpott (0 Comments)
Filed under: Education, School Spotlight
Nothing is a more powerful testament to the success of a music program than when a student of said program can speak passionately about the positive experience it has had on her life. Allison Cole is a senior at Breck School in Golden Valley, Minn., and a member of the Breck Chamber Players, today's featured School Spotlight ensemble. Here she writes about how her participation in this group has taught her things that she can apply to her growth as a person as well as to her musical development. Her high praise of BCP director Claudette Laureano clearly argues that "sky-high expectations" and aiming for perfection go a long way to achieve "professional" sounding results, while bringing the students together under shared purpose in the process.
While reading this essay, may I suggest listening to the below recording from 2009 of local composer Shelley Hanson's Elegy for Albinoni, commissioned in 2008 by the Breck Chamber Players.
I have been a member of the Breck Chamber Players since my freshman year in high school, and have been a part of the Breck string program since the fourth grade. That is nine long years. Being a part of orchestra has become a staple not only in my Breck experience, but in who I am as a person. Music education is something that is so important in our community in Minnesota, and having Mrs. Laureano as our teacher is such a blessing. Her extensive knowledge has taught me so much not only about music, but also about life. In class it doesn't matter whether we get through two measures or an entire piece, we won't stop until it is perfect because "professionals practice until they can't get it wrong". From our first day in the string program, she has challenged us so much over the years. For instance we played "Mother Ginger" from The Nutcracker, when we were only in fifth grade (which was absolutely crazy) and "Farandole" from Bizet's L'Arlesienne in the sixth grade. Her sky high expectations are the reason we excel in every piece that we play. Each day we prove people wrong and play things right, from a simple triplet rhythm to a dotted eighth- note sixteenth rhythm. All members who leave the Breck Chamber Players have a good understanding of phrasing, bow usage, a true forte, and how to play chamber music well. It is awesome when members of the football team tell us that we sound professional. While we know that we still have a lot of work to do, we know that our "professional sound" comes from the dedication that the members of our orchestra have to music, as well as to Mrs. Laureano's never ending dedication to us and our development as musicians and people. What I have learned from the Breck Chamber Players is that music is so much more than just that; it is love, dedication, blood, sweat, tears, practice, emotion, control and beyond. Most importantly however, I have learned that "without music life would be flat".
(
0 Comments
)
Posted at 5:30 AM on October 29, 2013 by Claire Philpott
Filed under: Education, School Spotlight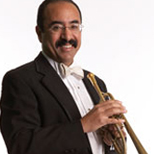 Manny Laureano, co-artistic director of Minnesota Youth Symphonies (MYS) and principal trumpet of the Minnesota Orchestra, originally submitted this audio in written form to be included as part of the today's School Spotlight feature on MYS.
But when I read it, I realized that I couldn't mix it in with my feature; it clearly stood on its own and deserved to be given special treatment.
Listen to Manny tell this powerful story of how he found a way, in an MYS Symphony Orchestra dress rehearsal, to help his students go from making good music to incredible music. Even he was surprised at how the experience triggered a profound emotional reaction in him. You'll see why this story needed its own blog post.