Posted at 3:30 PM on July 24, 2014 by Luke Taylor
Filed under: Concerts, In the media, Reviews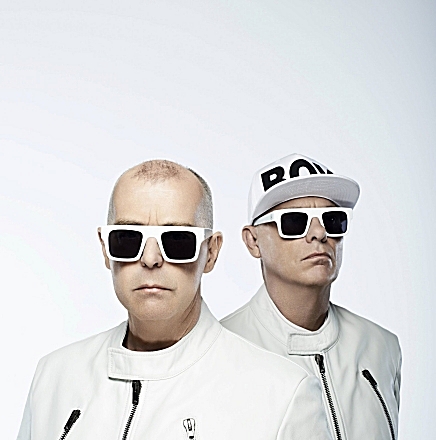 Pet Shop Boys: Neil Tennant and Chris Lowe (photo by John Wright).

Perhaps best known as electro-pop duo Pet Shop Boys, Neil Tennant and Chris Lowe made their Proms debut as composers on Wednesday, July 23.
The BBC Proms, largely known as the world's greatest classical music festival, runs July 18 to Sept. 13, with concerts every day at the Royal Albert Hall in London and in other venues around the UK and Northern Ireland. (Classical MPR will begin broadcasting highlights of the Proms on Sept. 1, leading up to the Last Night of the Proms on Sept. 13.)
Tennant and Lowe's work, A Man from the Future, is a look at the life of Alan Turing, a cryptographer in World War II and a pioneering computer scientist whose work helped make possible the medium in which you're reading this right now. In 1952, a time when homosexuality was illegal, Turing was prosecuted for being gay; he received a posthumous pardon in 2013.
"Turing was way ahead of his time in the realms of both technology and sexuality," remarked Tennant and Lowe in a statement ahead of Wednesday's concert. "His open expression of his homosexuality was astonishingly brave and forward-looking at a time when gay men were relentlessly persecuted by the government."
The Proms concert featured Tennant and Low, as well as Chrissie Hynde (the Pretenders) on vocals, as well as the BBC Singers and the BBC Concert Orchestra, conducted by Dominic Wheeler. Actress Juliet Stevenson — whom you may recognize from her role as the mother to Keira Knightley's character in Bend It Like Beckham — provided narration.
Enjoying a Proms premiere is one more accomplishment for Pet Shop Boys, who have also scored films and composed for ballet and musicals. "This is proof of why these two gentlemen are more than just an '80s throwback synth-pop band," says Jake Rudh, host of Transmission on Classical MPR's sister station, The Current.
In the wake of the premiere, reviews of the concert have been largely positive; here's a roundup:

What are we to call A Man From the Future … A pop oratorio? A classical audiobiography?

His tale works as an operatic tragedy and this piece is extensively sung: by the BBC Singers, augmented by Neil Tennant … This tribute is lavishly orchestrated. The BBC Concert Orchestra, conducted by Dominic Wheeler, is doing the heavy lifting …

Turing's story is deeply affecting, and the telling of it by an establishment organisation (the BBC, which runs the Proms) in an establishment venue (the Royal Albert Hall) in an establishment idiom (classical) is cause for celebration.

But we really could have done with more from Lowe, and modernity more widely. Turing was, after all, a man from The Future. Even given the operatic nature of his tale and the rarefied Proms setting, wrapping this man up in strings seems a contradictory impulse.


… Getting the tale of Turing's singular genius and representative tragedy across seems to outweigh the balance between words and music. "Conform, rebel or withdraw" are the choices the public schoolboy Turing is presented with, as ominous strings close in to cage him.

The remorseless glide of laptop-generated synth washes signal the machine-dreams which led him towards the computer's invention. The BBC Singers then give the sensation of a dying fall, as the backroom heroism which turned the U-boat tide at Bletchley Park is passed over in a sentence. Tennant and Lowe aren't interested in what Turing is belatedly honoured for now, but his shadow-life then.

Bursts of hot, frantic swing follow him mentioning his homosexuality, and the furious swell of the choir's baritones greet his downward spiral towards chemical castration by the state. His hot blood and mechanistic visions' merging is expressed in the orchestral-laptop score. It is always, though, subservient to the verbal tracing of Turing's fate.

John Aizlewood, Evening Standard:


The 45-minute extended song-suite had its clunky moments but it was joyously light on its musical feet, encompassing sublime Kraftwerkian wonder, the sheer power of orchestra and choir at full pelt.

The sheer scale required to perform it may mean A Man from the Future is consigned to history. Let's hope not: it deserves better.


Who knows what the appropriate term would be to describe A Man From the Future … The text combined his scientific brilliance with the outspokenly gay sexuality that cost him dearly in the censorious Fifties.

Musically, the piece skilfully blended orchestral writing with shifting electronic layers, masterminded by a suitably enigmatic Chris Lowe. Turing's fascination with a "universal machine" was evoked by a slice of dreamy electronica, though elsewhere there were witty interpolations of Fifties-style sci-fi effects or dark string passages.

Orchestrator Sven Helbig conjured a dazzling spectrum of colours from the orchestra and the BBC Choir, although powerful melodic ideas seemed thin on the ground. Whether including a recording of Gordon Brown's apology for Turing's appalling treatment (which included chemical castration), will enhance its box-office appeal, I wouldn't like to say.


Divided into eight sections, the Pet Shop Boys' ambitious, sometimes atonal work marked a departure from such radio-friendly tracks as It's a Sin and West End Girls.

Yet it still contained elements of the group's recognisable computerised sound, alongside contributions from an 18-member chamber choir.

Now that you've read what the critics have said, you can listen to the music for yourself. BBC Radio 3 has made this Prom available for listening for 30 days. Launch the BBC iPlayer via this link.
Classical MPR will highlight performances from the Proms starting Sept. 1, leading up to the Last Night of the Proms on Sept. 13; listen for those Proms highlights each day at 10 a.m. and at 10 p.m. CDT on Classical MPR.