Category Archive: Recordings
Posted at 5:50 AM on September 28, 2014 by Michael Barone (0 Comments)
Filed under: Classical hosts, Recordings, Reviews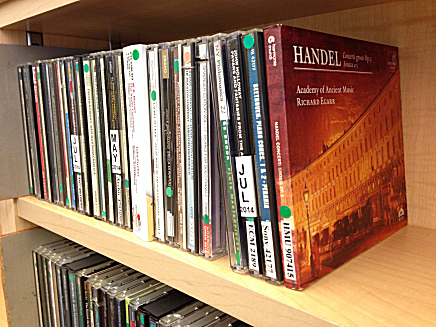 We have music on the stereo at home all the time, usually from CDs that I am auditioning (of which there are piles and piles). Yesterday, though, Lise was outside weeding, I was inside beginning to go through stuff brought back from my brother's house.
But we breakfasted together, in the glowing morning sunlight, to Messiaen's "Turangalila" Symphony — the new Finnish Radio Symphony recording on Ondine, with Angela Hewitt playing the important piano part — what music is more filled with joy and amazement?! A perfect accompaniment to nature's cheery brilliance.
Then followed an eclectic mix. Here's what we listened to:
Barone's Sunday Playlist
MESSIAEN: Turangalila Symphony … nothing could be finer! (Ondine)
TAFELMUSIK FAVORITES: Jean Lamon's picks as she retires from 33 years at the helm of one of Canada's most successful ensembles; I met Jean when she and some other Oberlin Baroque Performance Institute kids came out to play with my little Keith Hill harpsichord in one of the prototype concerts of the Chamber Music Society of Saint Cloud. She's done well since! (Analekta)
MOZART: Symphonies 38-39-40 in trio arrangements by Hummel … rather disappointing, I must admit, couldn't listen to more than a few minutes before finding something else (Naxos)
GLIERE: Symphony #3/Buffalo Philharmonic — a sprawling, lush, underappreciated score; Russian Mahler? (Naxos)
PERSICHETTI: Music for Violin and Piano, including a piece he never published that was discovered by the CD soloist, first recording; chewy music but worthwhile (Naxos)
HAYDN: Lord Nelson Mass/Boston Baroque … this one irritated me, sounding as though it was a competition for the most virtuosic and slick performance of the piece, lacking humanity, again I hit "[r]eject" soon (Boston Baroque)
YORK BOWEN: Phantasy Quintet for Bass-clarinet and Strings (and other chamber music) … what a beautiful thing! (Chandos)
STOKOWSKI conducts MOZART, with Philadelphia Orchestra on tour in Milan … they don't play this way today, but what soul! (and a wild cadenza in the 20th Piano Concerto) (Guild Music)
ROSSINI: Overtures/Prague Chamber Orchestra … perky background (Naxos)
Got through a lot of music on a beautiful Sunday.
(
0 Comments
)
Posted at 11:55 AM on August 1, 2014 by Luke Taylor (1 Comments)
Filed under: Fun finds, Recordings
Paul McCartney is playing a concert in Minneapolis on Saturday, Aug. 2. Given the ubiquity and universal appeal of the Beatles' music, it's not surprising there are a number of orchestral settings of Beatles' tunes.
Here are some orchestral Beatles album covers from Classical MPR's music library:
The Best of Beatles Baroque, Les Boréades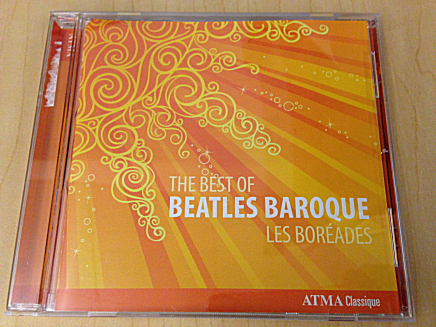 According to the liner notes, Les Boréades were recording an album of 17th-century Italian music when they all started riffing on Baroque settings of Beatles music. Producer Johanne Goyette had to promise Les Boréades they could record this album of Beatles tunes only if they focused on getting the Italian album finished first. Les Boréades got that done, then went on to record three albums of Beatles Baroque, of which this CD is a "best of" compilation.
Here, There and Everywhere: The Beatles for Guitar, Göran Söllsher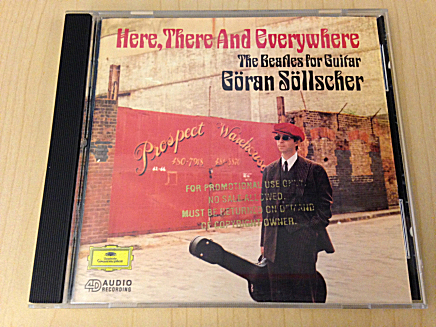 Guitar virtuoso Göran Söllsher's collection features 17 Beatles tunes arranged for classical guitar. The liner notes feature an introduction written by George Martin.
"These are beautifully played transcriptions of many of the Beatles' most beloved tunes," says Jennifer Anderson, Classical MPR's assistant music director.
Working Classical: Orchestra and chamber music by Paul McCartney, London Symphony Orchestra, Loma Mar Quartet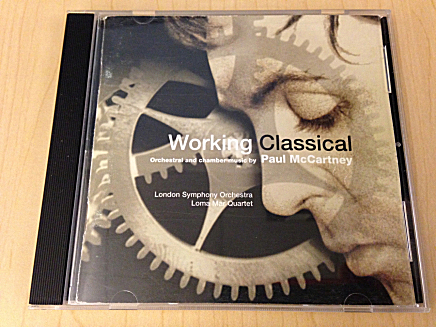 Inspired by McCartney's use of classical-music instrumentation in such Beatles tunes as "Yesterday" and "Eleanor Rigby," this album by the London Symphony Orchestra and the Loma Mar Quartet blends orchestral and chamber music across 14 tracks, including such recognizable McCartney songs as "My Love" and "Maybe I'm Amazed."
"This is one of McCartney's most interesting classical discs, with inventive original compositions and lovely orchestral re-workings of some of his most popular songs," Anderson says.
Ecce Cor Meum, Paul McCartney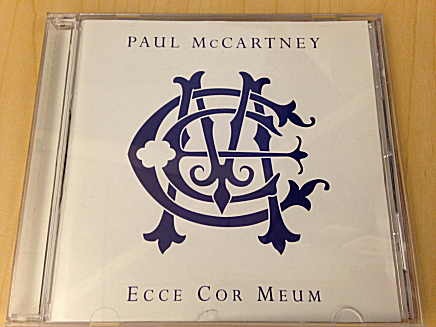 Recorded at Abbey Road Studios in London, this is Paul McCartney's own collection of classical-music compositions. The title means, "Behold My Heart" and the musicians include the Academy of St Martin in the Fields, soprano Kate Royal, the Boys of Magdalen College Choir, Oxford and the Boys of King's College Choir, Cambridge.
"This is McCartney's second oratorio, the first being Liverpool Oratorio," Anderson says. "Ecce Cor Meum echoes the great British choral masterworks by Elgar and his contemporaries."
(Incidentally, is the designer of the album art in any way a fan of Rangers FC…?)
Here are some other fun finds from the Internet; this is just a start and is by no means an exhaustive search: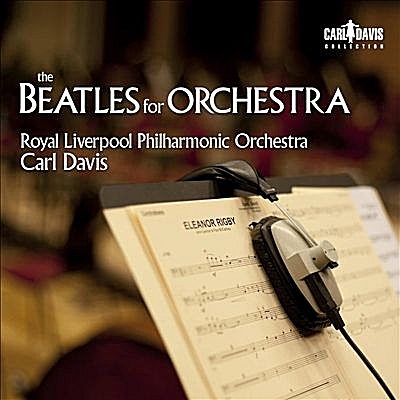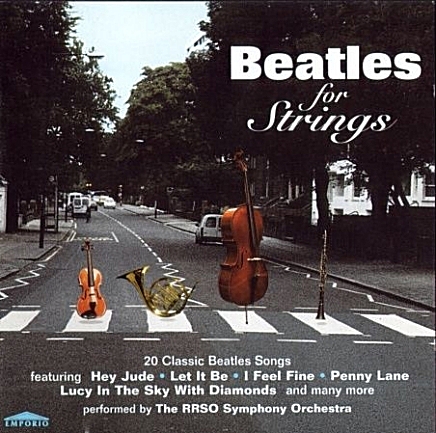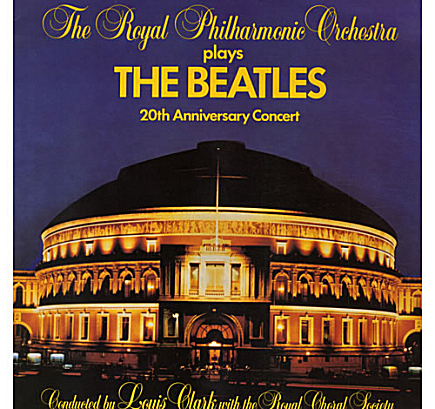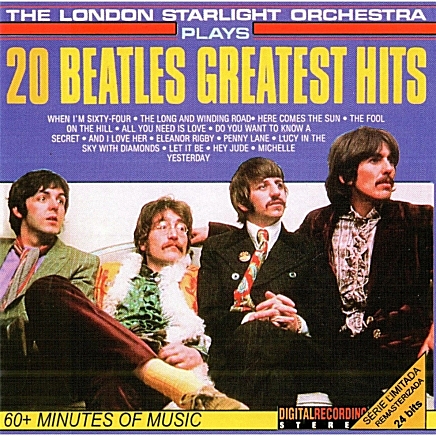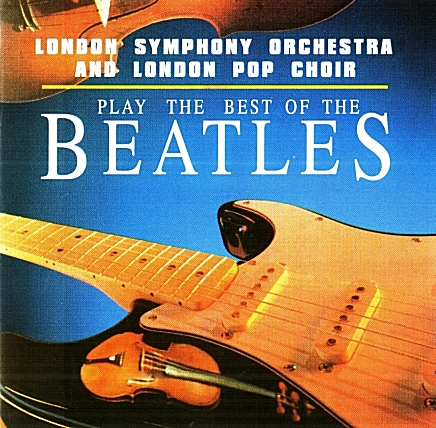 So how does it all sound? Have a listen, then share your thoughts in the comments section below:
Do you have any orchestral recordings of Beatles music in your collection?
(
1 Comments
)
Posted at 12:00 PM on November 13, 2013 by Jay Gabler (1 Comments)
Filed under: Recordings
The final volume of BIS's Bach cantata series--volume 55--is one of the most notable recent classical releases; among other plaudits, it was highlighted by BBC Music Magazine as the single most outstanding release of the month. Understandably, conductor Masaaki Suzuki appears on the disc's cover looking well-pleased.
Of course, he also looked well-pleased on the cover of volume 54.
And volume 53.
And volume 52.
Now, I appreciate that BIS had more urgent concerns to attend to than designing 55 entirely distinct CD sleeves. That said, it seems odd that with such a distinguished recording series, there was so little effort to generate visual excitement. Classical labels may run on shoestring budgets--in fact, they certainly do--but the classical world seems to be slow to pick up on the reality that's already been acknowledged in other media realms: the content may be king, but a king has a hard time ruling when he's dressed in rags.
Limited budgets notwithstanding, classical labels seem perversely driven to draw attention to their packaging design struggles. I wouldn't even have noticed the Suzuki repetition, for example, if BIS hadn't positioned volumes 54 and 55 right next to one another in a large print advertisement. Then there's this trick, where the same photo shoot is made to do double duty with slightly varied poses.
Even the stock images of flowers, cathedrals, and composers are better, since at least they can be varied. They might be boring, but boring is probably preferable to laughable. Then there are those designers who draw plenty of attention to their album covers--but for the wrong reasons.
Can classical music's design problem be solved--within a budget? Possibly. Consider what's happened with classic literature: enterprising publishers are enlisting comic book illustrators and getting creative with type to put fresh faces on books by dead authors. Word Cloud Classics, a series from Thunder Bay Press, uses textured plastic covers to add a new tactile element to the act of reading.
In popular music, bands and labels are encouraging consumers' newfound interest in analog formats such as vinyl and even (strange but true) audiocassettes, recognizing the advantage in selling a product that can't be torrented. Interesting covers and packaging have become more integral to pop music marketing than ever, whether the label is a major player like Interscope (with Lady Gaga commissioning Jeff Koons to create a sculpture for the cover of her new album Artpop) or a small outfit like Minnesota-turned-California label Moon Glyph. (Of course, indie rock has its own well-worn tropes: for every photo of a pianist reflected on a Steinway cover, there are ten photos of hipster bands standing in parking lots wearing Ray-Bans.)
What do you think? What are your favorite classical album covers? What covers do you never want to lay eyes on again? Is there anything the classical world can reasonably do--within its limited resources--to step up its design game?
(
1 Comments
)