Posted at 3:39 PM on April 22, 2014 by Luke Taylor
Filed under: In the media, Osmo Vanska
It's fair to infer Osmo Vänskä is earning plenty of frequent-flyer points.
In January alone, the former music director of the Minnesota Orchestra conducted the Orchestre de la Suisse Romande in Geneva, the Israel Philharmonic in Tel Aviv, and the Orchestra National de Lyon in its eponymous city in France. A little more than a week ago, Vänskä was in Amsterdam to conduct the Royal Concertgebouw Orchestra. And this week, as the Washington Post's Anne Midgette reports, Vänskä is in Washington, D.C., to conduct the National Symphony Orchestra.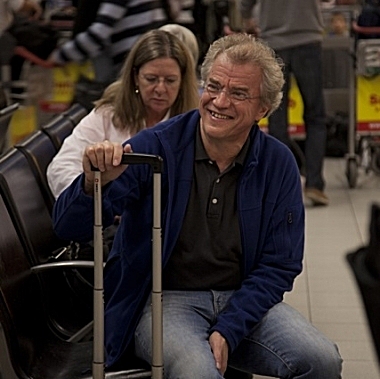 Osmo Vänskä has been seeing his fair share of airports lately (MPR file photo/Minnesota Orchestra)
Freelancing has its benefits. "There is a temptation to think about doing only guest conducting, because you don't need to take all the headaches that the music director has to," Vänskä told Midgette.
But there was a suggestion the man would prefer a full-time job. "I have always had an orchestra," Vänskä said to Midgette, "let's call it my own orchestra, since '85."
In Midgette's article, Minnesota Orchestra Principal Trombonist Doug Wright describes Vänskä as "a good fit" and says life would be "easier and better all around" if Vänskä did return to his former post in Minneapolis. But Wright acknowledges, "Obviously, if he doesn't come back, we will go find a new music director."
Add to this speculation the recent news reported in The Guardian that the Royal Concertgebouw's current director, Mariss Jansons, announced he will resign his position as chief conductor of that orchestra after its 2014-15 season.
Could the prestige of the Royal Concertgebouw, the excellent quality of life in the Netherlands, and the shorter trip back to his native Finland be enticements to Vänskä?
"It's obvious that I am still living with many question marks," Vänskä told the Washington Post's Midgette. "I need to get more answers to those questions. When I get those answers, then it's time to make decisions."