Category Archive: Opera
Posted at 11:20 AM on July 2, 2014 by Jay Gabler (0 Comments)
Filed under: Opera
Wolf Trap Opera of Vienna, Virginia has announced that at a July 25 production of Carmen, tech journalist David Pogue will be onstage as a supernumary (a non-singing chorus member), using Google Glass "to capture brief bits of the onstage action. His short video clips and still photography will be shared to Wolf Trap's online and social properties in near real-time, providing a 'second screen' experience and offering a unique perspective of the onstage action at the Filene Center."
If this experiment is a hit with audiences, what's next? Here are a few of my own ideas:
• Outfit John the Baptist with Google Glass in a production of Salome, allowing the audience to look straight into the aroused eyes of the distraught antiheroine while she sings to the prophet's disembodied head.
• Broadcast a live video feed from a Google Glass headset worn by Despina in Così fan tutte, subtitled with what the maid is actually thinking about the onstage shenanigans. ("These jerks deserve each other.")
• Put Google Glass on a soprano singing the role of Aida, and allow audience members to use a hashtag to give her feedback in real-time. ("That last aria was a little pitchy." "Maybe move a few steps downstage to heighten the drama in this next scene.")
• One word: Valkyriecam™.
(
0 Comments
)
Posted at 3:36 PM on May 21, 2014 by Rex Levang
Filed under: In the media, Opera, Reviews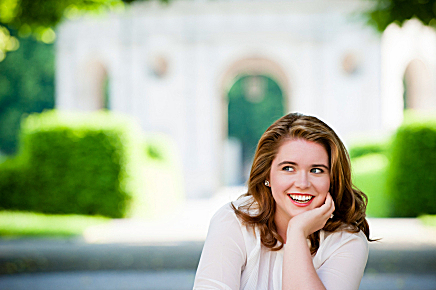 Mezzo-soprano Tara Erraught (photo courtesy IMG Artists)
Here's the story that's been tearing up the Internet in the last day or so — at least in the classical music department. It even shows up on the News Cut blog from MPR's Bob Collins.

The Irish singer Tara Erraught recently appeared in the title role of the opera Der Rosenkavalier. As Bob notes, "five different male writers used stocky, chubby, puppy-fat, scullery maid, unsightly, and unappealing to describe her 'performance.'"

Did the critics cross a line? Were their editors asleep at the switch? Would a male singer have been treated differently?

As this summary in The Telegraph suggests, opera singers, music writers, and the opera-loving public have not been slow to join the debate.
What do you think? Share your thoughts in the comments below.
Posted at 2:47 PM on November 8, 2013 by Julie Amacher
Filed under: Events, Opera, Reviews
Last night I sat in on the final dress rehearsal of the Minnesota Opera's production of Arabella by Richard Strauss. If you go, here are a few things you might notice. First of all, there is no overture to set the scene. Music Director Michael Christie walks into the pit, the oversized orchestra of 62 musicians plays a few notes, and the singers are off. This opera is an athletic feat of endurance, especially for Jacqueline Wagner, who plays the lead, and her betrothed Mandryka, sung by baritone Craig Irvin. These musicians are well-trained Olympians.
The composer intended this music to be a bit frenetic; however, the tension is relieved every time Arabella graces the stage. Wagner's elegance as an actor and her rich, velvety voice melts more than one suitor's heart. There is plenty of comic relief starting with Arabella's sister, Zdenka, sung by Elizabeth Futral. Zdenka was a wild child, so even as a young woman she dresses and behaves as a boy. She even proclaims, "I will be a boy until I die." However, she does discover her womanhood in Act II.
You'll also notice the detailed whitewashed set as the curtain goes up on Act I. The scene is a hotel in Vienna in the 1920s. As Arabella blossoms, so does the color on the stage, in the form of flowers, the Downton Abbey-styled costumes and the set itself.
One incredible highlight is the love duet in Act II between Arabella and Mandryka. Irvin and Wagner are beautifully matched; if you aren't moved by this duet, you don't have a pulse!
And because this was a press event, live tweeting was not only permitted, but encouraged. Here are some of the photos I live-tweeted from the rehearsal to give you a taste of the production: