Posted at 12:01 AM on January 27, 2015 by Luke Taylor (0 Comments)
Filed under: Events, In the media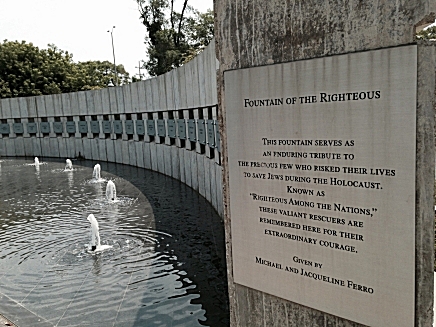 Fountain of the Righteous outside the Illinois Holocaust Museum in Skokie, Ill. (MPR photo/Luke Taylor)
Before video-streaming services, people turned to television to view Rodgers and Hammerstein's telling of the Von Trapp family's musical ascent and their subsequent escape from Austria after the Anschluss. Nearly every year during my childhood, my family and I watched The Sound of Music on TV, captivated by the story and the songs.
One year stands out in particular. When I was about seven years old, the next morning after watching the film, I sat at our kitchen table with scrap paper and crayons. A confusing image lingered in my mind from the previous night's viewing, so I began tracing the jagged symbol I had seen in the film — something my childish brain took to mean not much more than "the bad guys." In the midst of this naïve artistic endeavor, my dad walked into the kitchen and stopped me. "We don't ever draw that," he said firmly.
Putting my crayons aside, he proceeded to explain — in terms perfectly tailored to a boy, aged seven — the Holocaust. He described how men, women and children were taken away and murdered for no other reason than for being Jewish. Because one of my very first friends was Ari, a boy in my neighborhood who often came out to play wearing a yarmulke, there was added poignancy to what my father said.
Since that early conversation with my dad, my grasp of the atrocity and scale of the Holocaust has been reinforced through reading The Diary of Anne Frank at school and by reading Elie Wiesel's Night and Viktor Frankl's Man's Search for Meaning at college. I've been able to visit the Anne Frank House in Amsterdam, and just last year, I visited the Illinois Holocaust Museum in Skokie, Ill., for the first time.
The latter two articulated the fact that the Holocaust happened in modern times. Although people in the 1930s and '40s didn't carry smartphones, their lifestyle was a lot like ours: They listened to the radio. They went to the movies. They lived in cities and worked in offices and drove cars and used public transit and cooked dinner and washed dishes and went shopping and wore clothes not much different from our own.
And they listened to music.
January 27, 2015, marks the 70th anniversary of the liberation of Auschwitz. In his book, Desperate Journey, Auschwitz survivor Freddie Knoller describes growing up in Vienna and loving music. After the Anschluss, he fled his native Austria for Belgium, where he worked for a while as a cellist in a young people's orchestra. When Belgium was invaded, Knoller was forced to flee again, and advised to carry only the essentials. "My cello was not an essential, but how I hated leaving it behind," Knoller writes. "With its loss, I felt I was leaving part of myself, the part which tied me to my life in Vienna, to my parents. When I played, I always thought of home."
Knoller's parents died at Auschwitz. Knoller himself lived as a refugee for a few years but was ultimately transported to the death camp. By dint of his unrelenting survival instinct and no small amount of random luck, Knoller survives to this day.
Viktor Ullmann, a composer, conductor and pianist, did not survive. His music, however, lives on, as evidenced by this recording of his Violin Concerto No. 3, from the album, Uplifting Discoveries from a Generation Lost: Music of composers who died in the Holocaust (Centaur 2342). Ullmann's work is performed by the Colorado Chamber Players:
It stirs recollection of a lesson about the Holocaust from another family member, my maternal grandfather. During World War II, he had been part of an Allied railway brigade, charged with rebuilding the rail infrastructure as the Axis powers retreated from North Africa, Italy, France and ultimately, into Germany.
Sadly, Alzheimer's Disease mercilessly stole my grandfather's delightful wit and steel-trap memory in his final years, but there was a late moment of lucidity that remains permanently inscribed in my mind. It was something he had never told me before.
He and I were watching television, and a news story about a Holocaust commemoration came on. My grandfather spoke, his tone angry. "There are people who say that didn't happen," he spat incredulously. "But I saw it — I saw those people liberated from the camps. Their faces —" he gripped his own face and squeezed his cheeks together to describe the emaciated survivors' appearances. "I saw it. It happened. Don't forget that."
With stories and with ceremonies and with music, people the world over take time to remember.
(
0 Comments
)