Posted at 12:30 PM on November 20, 2014 by Luke Taylor (0 Comments)
Filed under: Fun finds, In the media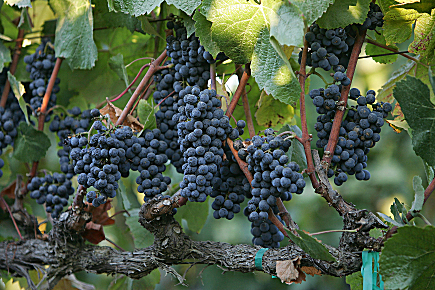 Grapes ready for harvest (Robyn Beck/AFP/Getty Images)

By now you've probably heard about what's been dubbed #Grapegate — the story in which the New York Times posits that something called Grape Salad is the signature dish of a traditional Minnesota Thanksgiving.
Problem is, pretty much nobody in Minnesota has heard of Grape Salad.
Today, Minnesota Monthly editor Rachel Hutton — whom you hear every Friday morning with John Birge on Classical MPR's "Moveable Feast" — went on New York public radio station WNYC's The Takeaway to speak to host John Hockenberry. "As a Minnesota foodie," the show's website puts it, "[Rachel] explains why New Yorkers have such a hard time understanding the food of the Midwest."
At the top of the interview, Hockenberry describes Grape Salad as someone familiar with the recipe. "John, I'm impressed that you've heard of Grape Salad," Rachel says, "because everyone else that I've talked to seems to have never heard of it before."
In the course of the conversation, Rachel describes how she contacted her mother to get to the bottom of this mysterious dish. Later, she and Hockenberry speculate on Grape Salad and other recipes for Thanksgiving. "We maybe should embrace the grape," Rachel suggests, "maybe people could make this recipe for Thanksgiving and enjoy it."
Listen to the complete interview here; it runs just a bit more than four minutes:
(
0 Comments
)