Posted at 3:50 PM on September 26, 2014 by Steve Staruch
Filed under: Click on Classical, Education, Fun finds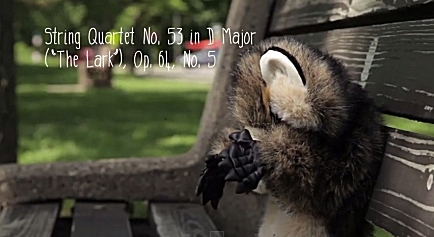 Karl is a very curious raccoon, as we find out in the video, "What's in a Title?".

As you're browsing the Internet this weekend, perhaps as you listen to Classical Minnesota Public Radio, I've got quite a few must-sees for you:
Watch some new videos
This week, Classical MPR posted five new educational videos to the website as part of our
Music for Learning
series. Although these are designed for use by teachers and schoolkids, there's something for all of us in these fun videos about such topics as:
Take some time to watch some or all of the videos. I think you'll enjoy them!
Read our hosts' posts in Classical Notes
First of all, thanks for being here to read my post! Earlier this week,
Michael Barone shared a fun story of some uncanny coincidences
involving musicians with whom he crossed paths in Philadelphia, St. Paul and St. Cloud.
Alison Young, meanwhile, shared some videos of what can happen when people forget their telephone manners
while at concerts. And
Fred Child shared how flutist Yukie Ota
— who won our hearts after a butterfly landed on her face during a performance — fared in that
flute competition in Copenhagen
.
Stretch your musical boundaries
It turns out that the people who like classical music and the people who like video-game music have a lot in common — they just might not know it yet. Pierce Huxtable, a production assistant with
Top Score
, has posted an article in which he describes
what video-game music lovers will like about classical music
… and
vice versa
. I invite you to check that out.
And remember, you can also like Classical MPR on Facebook and follow Classical MPR on Twitter.
Have a great weekend!