Posted at 5:00 PM on November 21, 2014 by Steve Staruch (0 Comments)
Filed under: Click on Classical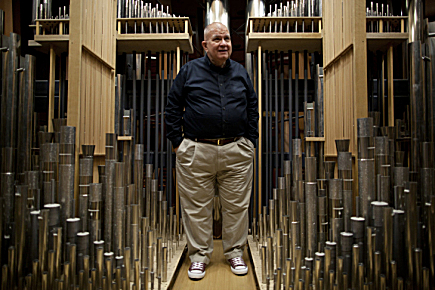 Manuel Rosales built the organ at the Walt Disney Concert Hall in conjunction with a design from architect Frank Gehry. The organ turns 10 years old this month. (Benjamin Brayfield/KPCC)

This weekend, take some time to look into stories about three wonderful instruments: the bassoon, the guitar and the pipe organ.
The bassoonist's view of the orchestra
This weekend, the Minnesota Orchestra honors the career of longtime bassoonist John Miller, Jr., celebrating 44 years of performance. In the run-up to the concerts, the first of which will air on Classical MPR on Friday, Nov. 21, at 8 p.m., Miller's fellow bassoonist Norbert Nielubowski has written a
delightful essay on the bassoonist's view of the orchestra
. You'll laugh and you'll learn.
Celebrate Minneapolis-born guitarist extraordinaire, Sharon Isbin
Sharon Isbin's new box set of CDs, entitled
5 Classic Albums
is featured
on New Classical Tracks this week
; you can even
enter for a chance to win a copy of the box set
. What's more, Sharon is the subject of
a new documentary called Sharon Isbin: Troubadour, which we just found out will air on Twin Cities Public Television
on Friday, Jan. 9, 2015, at 9:30 p.m. Get a sense of what the documentary is about by
watching the trailer
.
A great big pipe organ turns 10 years old
Walt Disney Hall in Los Angeles is the home of the Los Angeles Philharmonic. It's also home to a 6,000-pipe organ, which celebrates its 10th birthday this weekend. In fact,
Michael Barone, host of American Public Media's Pipedreams
, is on his way to Los Angeles this weekend to host the festivities. We can't all travel to Los Angeles, but thanks to
John Rabe at our sister station KPCC in L.A.
, we can
take a virtual tour of the organ with this slideshow
.
Have a great weekend!
(
0 Comments
)