Posted at 4:50 PM on January 16, 2015 by Steve Staruch (0 Comments)
Filed under: Click on Classical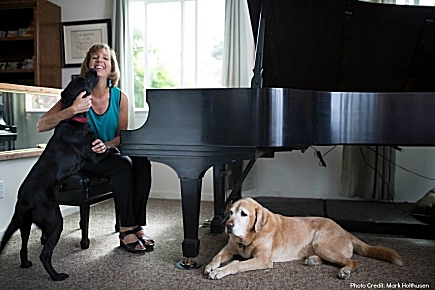 Composer Lisa Spector and her dogs (photo by Mark Holthusen)
As you're browsing the Internet this weekend, here are some stories I think you'll enjoy reading.
Sharing music with our dogs
Many people who enjoy listening to classical music report that it helps them relax or that it helps them to energize. It turns out dogs respond to music much the same way humans do. Heather McElhatton, the producer of a new American Public Media program called
A Beautiful World
,
spoke to composer and dog lover Lisa Spector, who has worked on a series of recordings
that can help dogs — and the people who love them — to relax and to feel less anxiety.
Celebrating LGBT rights with music
This weekend, One Voice Mixed Chorus — the Twin Cities premier LGBT choir — presents two concerts at the Hopkins High School auditorium. Titled, "Eat, Drink and Be Married," the concerts celebrate the advances in equal rights for the LGBT community. Earlier today, my colleague
Alison Young spoke with OVMC's Sarah Ramseyer Miller and Allan Warrior about the concerts
. We've also
posted a video that takes you behind the scenes of the choir's rehearsal
for the show.
Checking in with the state's talented teen musicians
Minnesota Varsity made an important step forward this week, announcing the Featured Round artists in the statewide showcase of teenage classical musicians. Instrumentalists, vocalists, ensembles and composers from up and down the state have been named to
Minnesota Varsity's Featured Round
, putting them one step closer to the showcase concert at the Fitzgerald Theater on April 19.
BONUS: If Mother Nature cooperates, it'll be a great weekend to get outdoors to play or to spectate at the U.S. Pond Hockey Championships on Lake Nokomis in Minneapolis. Teams come from across the nation to compete for the Golden Shovel. MPR News' Jeffrey Thompson has assembled a series of short videos that take us behind the scenes of this tournament that is characteristically Minnesotan.
Have a great weekend!

(
0 Comments
)