Posted at 4:30 PM on September 19, 2014 by Steve Staruch (0 Comments)
Filed under: Classical hosts, Click on Classical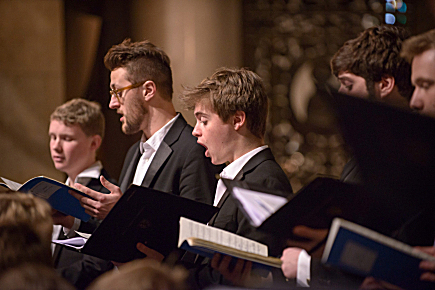 The Choir of King's College, Cambridge (MPR photo/Nate Ryan)

As you're browsing the Internet this weekend, perhaps as you listen to Classical Minnesota Public Radio, I've got quite a few must-sees for you:
Participate in Music with Minnesotans
This season, we've added a new twist to
Music with Minnesotans
, the a weekly series that I host on Tuesdays at 5 p.m., in which I bring in various people from throughout the state to talk about the classical music they love.
The new twist involves you! At the end of each episode, I invite you to suggest a piece of music to that week's Music with Minnesotans guest. What do you think this person might like?
We'll publish the results of the music sharing, as we did this week for Music with Minnesotans guest Grant Johnson.
And if you'd like to send a suggestion to my guest this week, Dan Wascoe; just visit his episode page and look for the form at the bottom.

Check out the choral concerts coming to town
Minnesotans love choral music, so we're excited to bring you
concerts by the Vienna Boys Choir, the Choir of King's College, Cambridge, and St Paul's Cathedral Choir of London
. Tesfa Wondemagegnehu
shares his thoughts on each of these choirs, and tickets for the individual concerts are now available
for purchase.
What's up in Duluth? Ask Dirk Meyer
There's a lot to be found up in Duluth, and this Saturday, the Duluth Superior Symphony Orchestra opens its season at the Duluth Entertainment Convention Center — known as the DECC. On Thursday,
I got to speak to the DSSO's music director, Dirk Meyer
, about his vision for this upcoming season.
Can you play bluegrass on a lute?
If there's someone who can answer that question, it's Jordan Sramek, the artistic director of the Rose Ensemble. Probably best known for its mediaeval music, the Rose Ensemble will be embarking on a statewide tour that explores the roots of bluegrass.
Sramek spoke to my colleague Alison Young earlier this week to give a preview of the Rose Ensemble's upcoming season
and to talk about the connections between early music and bluegrass.
Join the Debate
Is classical music for relaxing, as
Sheila Regan posits
, or is it for expanding your mind, as
Patrick Castillo asserts
? There's a lively debate going on on our site right now — what do you think?
(
0 Comments
)