Posted at 3:50 PM on October 3, 2014 by Steve Staruch
Filed under: Click on Classical, Fun finds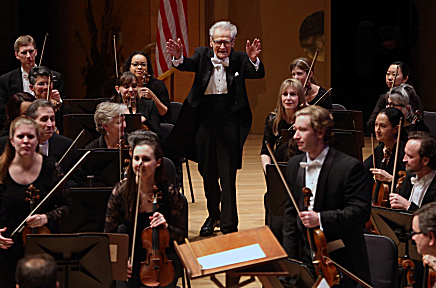 Minnesota Orchestra conductor emeritus Stanislaw Skrowaczewski takes the stage before their concert at Orchestra Hall in Minneapolis, Minn., Friday, Feb. 7, 2014. (MPR photo/Jeffrey Thompson)

As you're browsing the Internet this weekend, perhaps as you listen to Classical Minnesota Public Radio, I've got some must-sees for you:
Listen to a new release — then enter to win a copy of it
Benjamin Grosvenor is only 22 years old, but he's already one of the world's most sought-after pianists. His new album,
Dances
, explores a range of repertoire, including Polonaises by Chopin and mazurkas and a waltz by Scriabin — although "Dances" also seems to describe the way Benjamin's fingers move across the keys. Listen to my colleague
Julie Amacher's interview with Benjamin Grosvenor on New Classical Tracks
; you'll also hear samples of the music and you can even
enter for a chance to win a copy of the CD
.
Celebrate Stanislaw Skrowaczewski's birthday
Today, Maestro Stanislaw Skrowaczewski turns 91 years old. This masterful dynamo is always on the go, and right now, he's in Japan to conduct some concerts. On Friday, Oct. 3, at 8 p.m.,
Classical MPR will air the recording of last year's 90th birthday concert for Stan
, hosted by the Chamber Music Society of Minnesota and held at Orchestra Hall in Minneapolis.
Michael Barone shares some insights of the night as well as the list of pieces performed
— and if you miss the broadcast, we'll have the audio posted online for repeat listening.
Learn about a new vocal ensemble
This week on Regional Spotlight, I had the pleasure of
featuring the music of a new Twin Cities vocal ensemble, the Vox Nova Chorale
. The group is led by Vicki Peters, who has sung with many of the area's fine choirs, and is only in its second season. If you enjoy choral music, you'll want to
give Vox Nova a listen
.
Help support Classical MPR
As you know, we're in the middle of our fall member drive, and an easy way to support Classical MPR is to
become a member online
. Thank you for your support.
Have a great weekend!