Category Archive: Classical hosts
Posted at 11:10 AM on July 27, 2014 by Luke Taylor (0 Comments)
Filed under: Choral Music, Classical hosts, In the media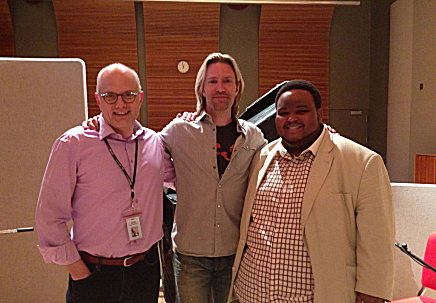 Tesfa Wondemagegnehu (far right) poses with Classical MPR's Brian Newhouse and with composer/conductor Eric Whitacre (MPR photo/Nate Ryan)

Fans of Classical MPR's choral-music programming likely know of Tesfa Wondemagegnehu, having read his work in this very blog.
On Sunday, July 27, the Star Tribune's Kristin Tillotson published a profile about Tesfa. Entitled "Putting the Cool in Choral," Tillotson's article describes Tesfa's youth in Memphis, Tenn., his work as a teacher in Orlando, Fla., and his new career in Minnesota.
Tillotson writes:


Wondemagegnehu, a young black singer and conductor from Memphis … has wowed the Twin Cities choral scene since arriving in town last summer … when he accepted a job as assistant artistic director for VocalEssence. Not long after, he was hired to help program and promote Minnesota Public Radio's 24-hour streaming of choral music.

Last week, he went full time at MPR, where a new choral initiative will bring him to area schools for music outreach. He'll also head up a new group of young singers, the APM Radio Choir.

The article also makes reference to Tesfa's participation in the Dominick Argento "Seasons" premiere at the Minnesota Beethoven Festival in Winona, an experience Tesfa shared in this blog post before the concert and in this post recapping the Twitter trends of the festival.
You can read all of Tillotson's article on the Star Tribune's website as well as in print editions of the Sunday paper.
(
0 Comments
)
Posted at 9:42 AM on May 12, 2014 by Luke Taylor
Filed under: Classical hosts, Fun finds, Programs
Radio, like the Internet, is a 24/7 operation. If, for example, it's just before midnight on Christmas Day, there are people working in the building at Minnesota Public Radio.
So what do people get up to during those hours?
Scott Blankenship is one of the hosts of Music Through the Night (MTTN), the overnight programming on Classical MPR. The MTTN audience members are a loyal bunch, and they tend to engage with the hosts via the Music Through the Night Facebook page.
Among the many music-related offerings on the page is the occasional caption challenge. Last week, Scott Blankenship posted this picture: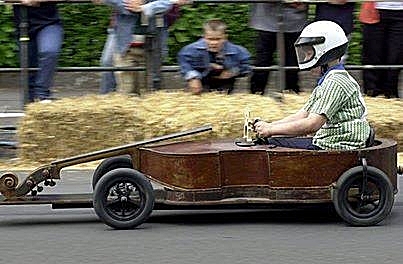 ... and then he invited people to submit their caption ideas. Other audience members vote for their favorites by liking (in the Facebook sense) the submissions. Scott writes, "The most likes at the end of the night gets braggin' rights for the week!"
Here are some of the higher-ranking entries:
Will Anderson: "He was doing alright, right up until he went flat."
Steve Fusselman: "Sounds like I need a tune-up"
Kat Cooper: "just a little bass-ic soap box derby engineering"
Basha Yonis takes a Far Side approach: "Being from a family involved in classical music, Bobby completely misunderstood when he overheard the older kids talking about 'driving bass'."
Rachel Kopel: "School district combines music classes and Shop to reduce budget."
Looking at the number of likes given to each entry, it appears Rachel may have earned those "braggin' rights" Scott offers!
You can read these, among 40-plus additional comments and caption ideas, by checking out the full post on the Music Through the Night Facebook page.
What other caption ideas do you have? Share them below.
Posted at 8:00 AM on December 17, 2013 by Alison Young
Filed under: Classical hosts, Holiday programming, The blog
Mom insisted every year that we make one of those holiday photo-cards, and she lined up all five of us one Christmas during our most awkward adolescence. We were on the porch in direct sun on one of the most bitter Chicago Decembers I'd felt (up to that point). We looked squinty, uncomfortable — and, sadly — not fresh-faced. Her moment of genius was to add Molly our stunningly perfect Golden Retriever. Maybe our friends' and family's eyes would alight on her! Didn't happen. She kept looking away trying to escape.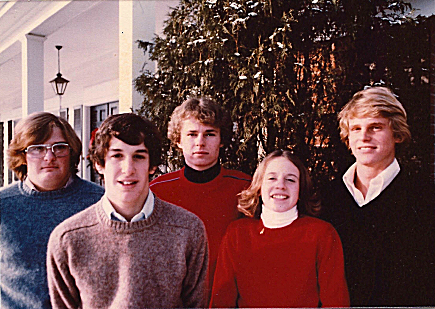 Alison Young and her siblings pose for their family's holiday card photo.
Even as we complained about how awful we looked, Mom went ahead and made her photo selection for the card, telling us her choice was the only one of "the roll" that didn't look as though we were charity cases.
Thirty some years later, my brothers and I laugh and cry and hug when we see each other, recalling that day and also that it was to be the last Christmas we'd all be together.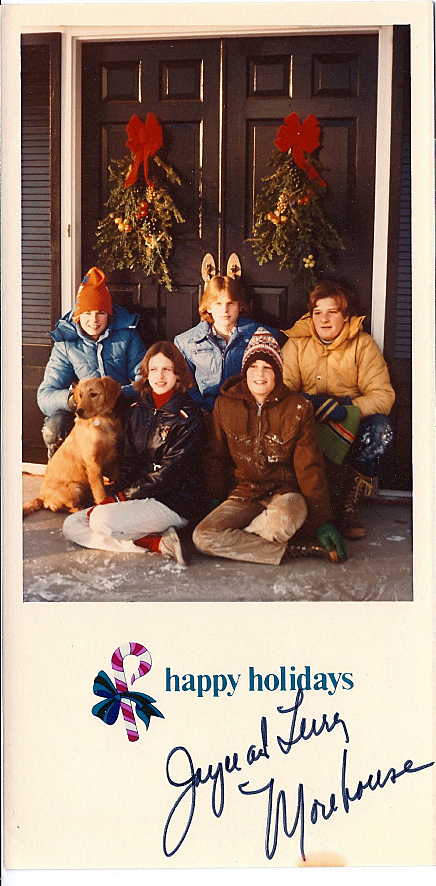 We're all still here, but life has taken us all over the place — and even if we had one "ugly" Christmas, we managed to survive and grow up to be pretty nice people.
Last night, Bill Morelock shared an unconventional holiday story from his childhood. You can learn more about that here.