Bang your head with this classical drum quiz
Posted at 10:50 AM on August 8, 2014 by Luke Taylor
Filed under: Fun finds, In the media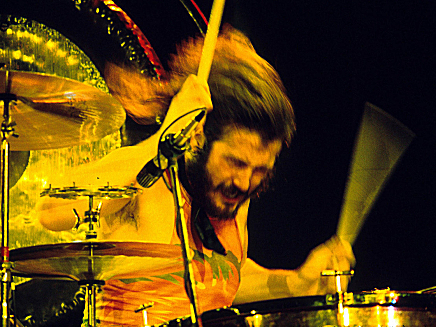 John Bonham of Led Zeppelin at the Los Angeles-area Inglewood Forum in 1973. (Jeffrey Mayer/WireImage)

"Beethoven, Stravinsky and Bartók can serve up beats as thunderous as any double-drummer metal band," writes NPR reporter Tom Huizenga in his introduction to a challenging quiz he posted on the NPR Music website today.
Huizenga's quiz asks you to identify classical pieces that spotlight percussion. In the seven-question quiz, you'll hear various uses of timpani, bass and snare drums across a range of works.
Identifying classical pieces using little more than drum fills is not easy. Try Huizenga's "Classical Headbanging Edition" quiz and you may end up banging your head … against your desk.
Good luck! (And feel free to report back here in the comments below with your score and other thoughts about the quiz.)