Local paper shines spotlight on Tesfa
Posted at 11:10 AM on July 27, 2014 by Luke Taylor
Filed under: Choral Music, Classical hosts, In the media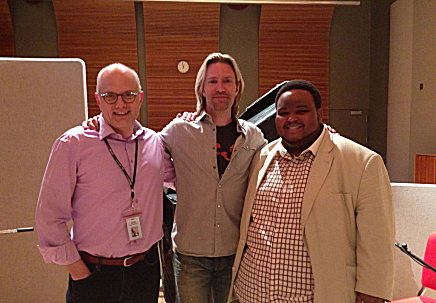 Tesfa Wondemagegnehu (far right) poses with Classical MPR's Brian Newhouse and with composer/conductor Eric Whitacre (MPR photo/Nate Ryan)

Fans of Classical MPR's choral-music programming likely know of Tesfa Wondemagegnehu, having read his work in this very blog.
On Sunday, July 27, the Star Tribune's Kristin Tillotson published a profile about Tesfa. Entitled "Putting the Cool in Choral," Tillotson's article describes Tesfa's youth in Memphis, Tenn., his work as a teacher in Orlando, Fla., and his new career in Minnesota.
Tillotson writes:


Wondemagegnehu, a young black singer and conductor from Memphis … has wowed the Twin Cities choral scene since arriving in town last summer … when he accepted a job as assistant artistic director for VocalEssence. Not long after, he was hired to help program and promote Minnesota Public Radio's 24-hour streaming of choral music.

Last week, he went full time at MPR, where a new choral initiative will bring him to area schools for music outreach. He'll also head up a new group of young singers, the APM Radio Choir.

The article also makes reference to Tesfa's participation in the Dominick Argento "Seasons" premiere at the Minnesota Beethoven Festival in Winona, an experience Tesfa shared in this blog post before the concert and in this post recapping the Twitter trends of the festival.
You can read all of Tillotson's article on the Star Tribune's website as well as in print editions of the Sunday paper.