Night Gallery: Caption Challenge
Posted at 9:42 AM on May 12, 2014 by Luke Taylor
Filed under: Classical hosts, Fun finds, Programs
Radio, like the Internet, is a 24/7 operation. If, for example, it's just before midnight on Christmas Day, there are people working in the building at Minnesota Public Radio.
So what do people get up to during those hours?
Scott Blankenship is one of the hosts of Music Through the Night (MTTN), the overnight programming on Classical MPR. The MTTN audience members are a loyal bunch, and they tend to engage with the hosts via the Music Through the Night Facebook page.
Among the many music-related offerings on the page is the occasional caption challenge. Last week, Scott Blankenship posted this picture: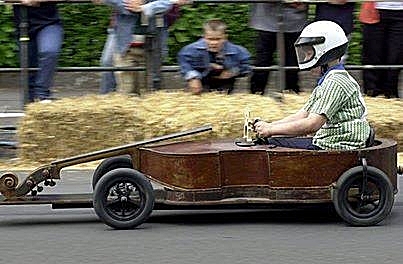 ... and then he invited people to submit their caption ideas. Other audience members vote for their favorites by liking (in the Facebook sense) the submissions. Scott writes, "The most likes at the end of the night gets braggin' rights for the week!"
Here are some of the higher-ranking entries:
Will Anderson: "He was doing alright, right up until he went flat."
Steve Fusselman: "Sounds like I need a tune-up"
Kat Cooper: "just a little bass-ic soap box derby engineering"
Basha Yonis takes a Far Side approach: "Being from a family involved in classical music, Bobby completely misunderstood when he overheard the older kids talking about 'driving bass'."
Rachel Kopel: "School district combines music classes and Shop to reduce budget."
Looking at the number of likes given to each entry, it appears Rachel may have earned those "braggin' rights" Scott offers!
You can read these, among 40-plus additional comments and caption ideas, by checking out the full post on the Music Through the Night Facebook page.
What other caption ideas do you have? Share them below.