How Maya Angelou Inspired Choral Music
Posted at 9:10 AM on May 28, 2014 by Tesfa Wondemagegnehu
Filed under: Choral Music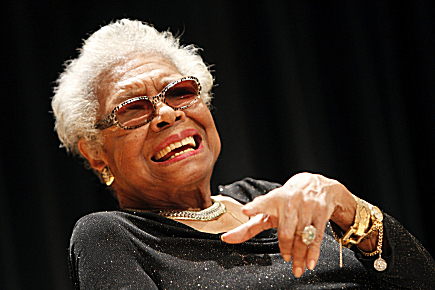 Maya Angelou at the Smithsonian's National Portrait Gallery on Saturday, April 5, 2014 in Washington, D.C. (Paul Morigi/AP Images for National Portrait).
Maya Angelou, one of the most beloved African-American authors, died today at age 86. In spite of her difficult childhood, she became an award-winning writer and a leading civil-rights activist who ultimately received the 2010 Medal of Freedom from President Barack Obama. Even facing the rockiest of realities, Maya Angelou still rose.
This inspirational journey would later be illustrated in her poem, Still I Rise. Rosephanye Powell, noted choral composer, was so inspired by Dr. Angelou that she composed an original choral work based on the poem's title. Dr. Rosephanye Powell shared this about the inspiration:
"Still I Rise was inspired by the poem of the same name by poet laureate Maya Angelou. It is a women's anthem, saluting the strength of women to persevere through life's difficulties -- low self-esteem, physical and emotional abuse, rape, incest, prejudice, abandonment, and such like. In summary, though a woman's life or past may be filled with tears and heartaches, with each day that she finds herself still living, she finds that she has grown stronger and risen a little higher because her circumstances have not overcome her. Thus, every new day can be one of hope and joy because regardless of the past, today, 'still I rise'!"
Still I Rise (by Rosephanye Powell)
One of Maya Angelou's most famous works was her autobiography
I Know Why the Caged Bird Sings
. The title of this book was inspired by the third stanza of Paul Lawrence Dunbar's poem
Sympathy
.
Minneapolis-based composer
Jake Runestad
recently composed a choral work using Dunbar's poem for Grammy-nominated conductor
Craig Hella Johnson
and Cincinnati's Vocal Arts Ensemble. Jake had this to say about Maya Angelou and Paul Lawrence Dunbar:
"In both Angelou's powerful autobiography, I Know Why the Caged Bird Sings, and Dunbar's poem 'Sympathy,' art serves as a vehicle for hope. Each artist was a caged bird in the midst of racial and social injustice and used art to both express themselves and to inspire change. Maya Angelou will continue to be an inspiration to me as someone who used art as a positive force to better our world for years to come."

The caged bird no longer has to beat its wing; it can fly freely and sing with the thousands of spirits that were uplifted by your legacy of excellence and journey of inspiration.