Yo-Yo Ma's 'Playhouse'
Posted at 9:26 AM on March 26, 2014 by Brett Baldwin
Filed under: Fun finds, In the media, Musician stories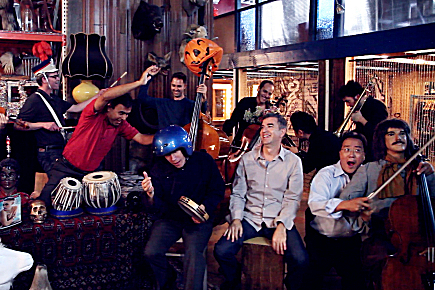 I've always imagined Yo-Yo Ma to be a fun-loving guy. From his photo op with a wombat to his inspired modern dance collaborations, Ma seems to be a guy willing to go the extra mile in the name of art, or simply having a good time.
NPR Music's latest Field Recordings video does both: art + a good time.
From Anastasia Tsioulcas, writer and piece producer:

When you're lucky enough to have cellist Yo-Yo Ma and members of the Silk Road Ensemble, some of the world's premiere instrumentalists and composers, gather for an afternoon of offstage music making, you've got to think long and hard about where to put them. And we decided that the perfect match would be ACME Studio, a theatrical props warehouse in Brooklyn.
And if that weren't enough, there are some fun animated GIFs from the session too.
If you had the afternoon to spend with Yo-Yo Ma, what would you do?