"Schubert is my sprit animal": Composers and Myers-Briggs on Tumblr
Posted at 2:00 PM on December 11, 2013 by Jay Gabler
Filed under: The blog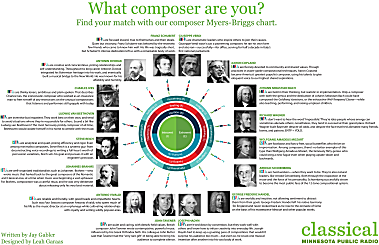 I recently posted our guide to composers and Myers-Briggs types on Tumblr — a social blogging site — and in the past 24 hours it's been widely shared. People have enjoyed finding out which is "their" composer, and they've been passing it on to their friends with excited comments. Here are a few of those comments.
"Good thing I fluctuate between being an INTP and an INTJ because I GOT BEETHOVEN WHAT"
"contentissimo with Verdi"
"Copland WOOP"
"Charles Ives, hell yeah!"
"Bach and I don't want to hear your sass. We know what's best."
"Dvorak ooh lala"
"Said it before, and I'll say it again: Schubert is my spirit animal."
"Aaron Copland, holla!"
"I am Beethoven. Bow before me peons."
"BRAHMS I GOT BRAHMS"
"Beethoven, [proud obscenity], maybe ya heard of me?"
"COPLAND FOREVAAAA"
"Wagner all the way. (This speaks to me on a spiritual level)."
"Brahms, eyyy"
"I'm John Tavener. Alrightalrightalright."
"Oh...I love this..I'm....Brahms...[PROUD OBSCENITY] YEAH THAT [PROUD OBSCENITY]...!"
"VIVALDI. I am Baroque through and through."
"[PROUD OBSCENITY] YEAH, DVORAK"
"Yeah I only wish I could write like Ives"
"Ravel's not on it I'm not even gonna bother."