JSB 4 LYF
Posted at 12:05 PM on November 5, 2013 by Emily Reese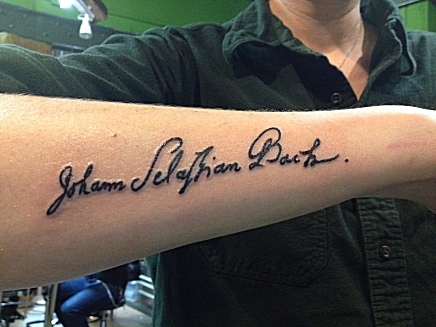 I like tattoos. I've always liked tattoos.*
I'm picky about them, though, with regards to where I'm willing to ink my own body for eternity. Also, no colors. But that's just me. If you want colors in your tattoo, knock yourself out.
I've immortalized a favorite game and two favorite friends (one feline, one human). I have some silly tattoos I got when I was too young to know what to get (but most eyes will never see those).
For the last year, I've known I wanted another. I was convinced it would pay homage to another game. I figured I'd get a Mass Effect tattoo. But nothing grabbed me. Nothing hit me like a bolt of obvious lightning.
Until last week. I was flipping through the pages of John Eliot Gardiner's new book on Johann Sebastian Bach. I don't claim to have a "special relationship" with Bach - no more or less than most can claim.
But I do claim that no composer means more to me. Not Beethoven, not Rameau, not Stravinsky. Not Brahms, and not Mozart.
Bach. So I got his signature. At least, I really hope it's his signature, and not, like, Mendelssohn, signing Bach's name.
So JSB got some real estate on my arm last night, and I couldn't be more thrilled. Special thanks to the crew at Leviticus Tattoo on Lake Street for their work.
Also, I beg you, don't tell my mother.
*Sorry, Mom.