Helping youth give voice to music
Posted at 5:30 AM on October 29, 2013 by Claire Philpott
Filed under: Education, School Spotlight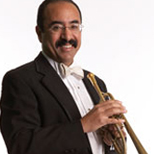 Manny Laureano, co-artistic director of Minnesota Youth Symphonies (MYS) and principal trumpet of the Minnesota Orchestra, originally submitted this audio in written form to be included as part of the today's School Spotlight feature on MYS.
But when I read it, I realized that I couldn't mix it in with my feature; it clearly stood on its own and deserved to be given special treatment.
Listen to Manny tell this powerful story of how he found a way, in an MYS Symphony Orchestra dress rehearsal, to help his students go from making good music to incredible music. Even he was surprised at how the experience triggered a profound emotional reaction in him. You'll see why this story needed its own blog post.