Posted at 11:32 AM on September 19, 2013 by Rex Levang (0 Comments)

When Pope Francis assumed the papacy, it was widely reported that he was an opera fan.
In a new interview, he proves it, with allusions to "Parsifal, "Tannhauser," and the "Ring." When asked about optimism, he responds with a reference to Puccini's "Turandot." Full text here.
(h/t Bob Collins)
(
0 Comments
)
Posted at 12:58 PM on September 19, 2013 by Brett Baldwin (0 Comments)
Filed under: Fun finds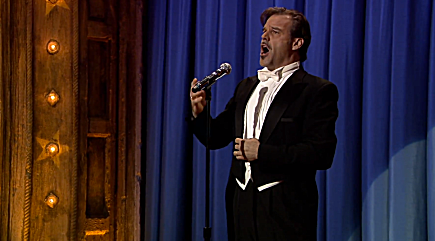 Looking for a little levity in your day? Look no further.
Late Night with Jimmy Fallon has a segment that features suggestions from the audience — appropriately entitled "Suggestion Box" — and last night's segment featured a wish from Stephanie Ellis to hear the "Meow Mix" jingle sung by an opera singer.
Fallon was more than happy to oblige. He brought out Richard Troxell, best-known for his portrayal of Lt. Pinkerton in the 1995 film version of Madame Butterfly. And he delivered.
For those unfamiliar with the jingle, here's the original:
(
0 Comments
)