Posted at 11:25 AM on September 16, 2013 by Brett Baldwin (0 Comments)
Filed under: Education
You may be 'Miss Taken' when it comes to America's biggest pageant and its relationship to classical music.
The conventional wisdom about the Miss America pageant is that it is a vapid, image-obsessed parade focused on physical beauty above all else.
Conventional wisdom often gets it wrong.
Two great stories emerged around this year's Miss America contest -- and they're both tied to classical music and education in a major way.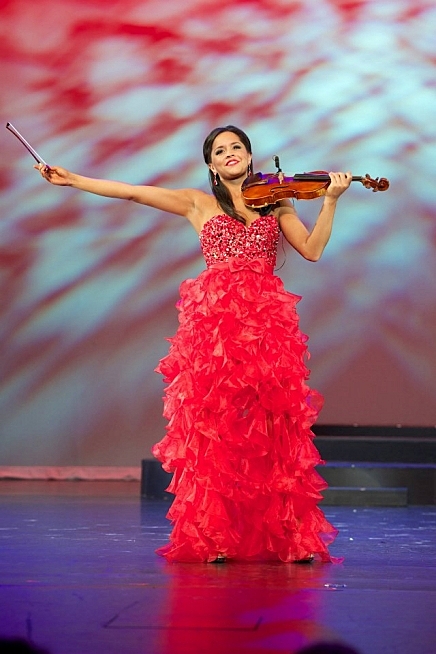 The first: Miss Minnesota, Rebecca Yeh, (pictured above) is a classically-trained violinist, who competed as a Featured Round Artist in Classical MPR's own Minnesota Varsity showcase.
While Yeh didn't get the tiara, (she was an impressive fourth-runner up) she wowed them with her performance of Wieniawski's "Scherzo Tarantelle." Her performance was so strong in fact, she won the preliminary talent competition earlier in the week.
But that's not all. Using her first-person experience with her brother's Autism diagnosis, she also speaks eloquently of the need for Autism awareness and advocacy in the public school system. Read a profile from her hometown newspaper, the Brainerd Dispatch, or see her introduction from the Miss America YouTube channel.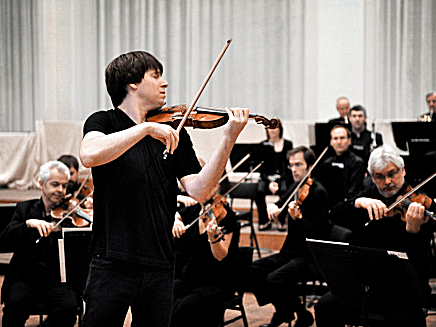 The second story emerging from last night's pageant features another violin super star: Joshua Bell.
Perhaps eclipsed by the crowning of Nina Davuluri as Miss America, the Miss America Organization's announcement of a new partnership with Education Through Music (ETM) to support education in schools didn't receive too much attention. ETM is an organization that partners with inner-city schools to promote the use of music in schools as a means of enhancing students' academic performance and general development.
Joshua Bell, world-renowned violinist and ETM Board Member, forged the partnership when invited to become a judge at the Miss America Pageant this year.

"Music enhances the lives of children in so many ways, which is why it is so important that music education be valued in our society. My own commitment to music education has brought me to many public schools, as well as established music academies, and I have seen first-hand the positive effects of music education on these children. Music teaches about beauty, logic, mathematics, language, teamwork, and individual expression. Having seen many ETM students with their own instruments in hand, beaming with a sense of accomplishment after having worked together to create something beautiful is nothing short of thrilling. I don't think there is a human alive who could witness this and then argue against the importance of music education. Having learned of Miss America's mission for educating young people, I was pleased to introduce The Miss America Organization to Education Through Music, and even more thrilled at the excited responses received from both organizations to the idea of joining forces to improve music education," says Bell.
Davuluri, will use the partnership to focus on STEM curriculum in the schools as she tours the country this year.
"During her year as Miss America she will serve as spokesperson for STEM (science, technology, engineering and mathematics) this year as she travels to Washington, D.C., to work with the Department of Education," a statement from the Miss America organization explained.

So the verdict on Yeh and Bell: good looking? Yes. Vapid? Hardly.
(
0 Comments
)