Requiem Aeternum, Marie-Claire Alain
Posted at 10:30 AM on February 26, 2013 by Michael Barone (5 Comments)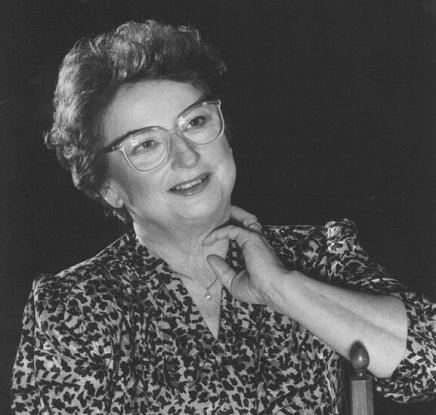 I have just received word (confirmed) that Marie-Claire Alain, the foremost French organist, teacher and recording artist, has died today at age 86. I cannot think of any single person who had a more profound impact on the organ world than M-C A.
She was the 'little black sheep' daughter, the late last of four children of a very musical family (her father Albert was an organist, composer, and amateur organ builder; her eldest brother Jehan an exceptional composer, who was killed early in WW2 at the age of 29; her second brother, Olivier, a musicologist; her sister Odile, also musical, also died young in a tragic skiing accident). Marie-Claire, encouraged by Jehan, showed remarkable talent, and went on to become the first French woman to record the complete works of Bach (several times), and enjoyed an international reputation for her numerous recordings and concert tours. The list of her students is a 'whose-who' of the present-day organ world.
Madame Alain's performances are included in numerous PIPEDREAMS programs. Her commentary, in particular, is features in two special broadcasts:
Hers was a bubbly personality, a quick wit, an elegant turn of phrase (musically and verbally), and a virtuosic yet also deeply perceptive and expressive performance style, as attested to by her dozens of recordings.
Her health had been deteriorating in recent months.
She will be sorely missed.
Requiem Aeternum, Marie-Claire Alain.
---
Comments (5)
Big history, Requiestat in Pace....
---
Did she not visit and perform in the Twin Cities....I believe at Wayzata Community Church...in the early 2000s?
She was a living legend.
R.I.P.
---
It was by fate that I came to study with Marie Claire Alain. At 23 and still an organ student of Oswald Ragatz at Indiana University, I attended a concert at Second Presbyterian Church in Indianapolis where she was playing. A year before that I had already played for Durufle in Indianapolis at Christ Christ Cathedral, and he had accepted me as his student at that time. As a part of the receiving line after Marie Claire's recital, I approached her with absolutely no timidity. I introduced myself to her and said that I had been accepted as a pupil of Maurice Durufle. Little did I know they were great friends, and she had actually studied with him when Dupre had taken a leave from the Conservatoire. I asked her while I was in line standing in front of her if I could come and study with her while studying with Durufle. Without hesitation, she said yes. A year went by, and we corresponded. I remember calling her in October of 1973 from the Cite des Arts upon my arrival in Paris. She answered the phone, and I told her who I was. I said, "It is Herndon Spillman. Do you remember me?" Her exact words were "of course, I've been waiting for your call." A lesson time was set up over the phone, and she gave me instructions as to what train to take and where it would stop. I had to walk through a forest to get to her subdivision. I remember when I got off the train I could hear an organ in the background through the woods. Walking out of the forest, I found the street to her home, and the sound of the organ was more prominent as I walked. All I needed to do was follow the sound, because it was Marie Claire practicing. I had great lessons with her. My two-year study with her changed my playing forever. I will miss her. Her influence will continue to live in the hearts and minds of all those she touched.
---
Marie-Claire Alain made many, many recordings that played a major role in my understanding of the best in music for the pipe organ. I constantly listen to the recording of J.S. Bach's music she made on the great Schnitger organ in the Martinikerk in Groningen. Beyond that, she played several of the instruments I built and they were concerts engraved in my mind I will never forget. But beyond that, it was simply wonderful to have a morning with her after one of those concerts.
Indeed, when Michael comments that she was foremost among the players of our time, though I have known many players, she is right at the top, Thanks, Michael for transmitting this rather sad news, like the news a year ago when we lost Gustav Leonhardt, one of M-C's best friends.
John & Christa Brombaugh
---
I am still, one week later, in disbelief that Marie-Claire, my teacher and very dear friend, is no more. How is it possible that that bundle of energy, so full of life and music and humor and love, can be gone. We knew each other for 47 years. She was perhaps the major influence in my life in many ways. She, and my teacher at Michigan, Bob Glasgow. But mostly Marie-Claire because we had a special bond - similar senses of humor, she was the big sister I didn't have. I cannot think of France without remembering something about her and our times together. I will miss her forever.
---