Posted at 10:30 AM on February 26, 2013 by Michael Barone (5 Comments)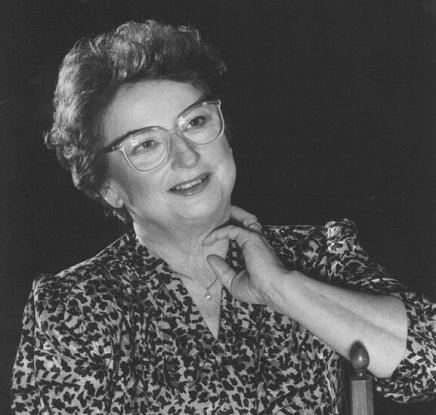 I have just received word (confirmed) that Marie-Claire Alain, the foremost French organist, teacher and recording artist, has died today at age 86. I cannot think of any single person who had a more profound impact on the organ world than M-C A.
She was the 'little black sheep' daughter, the late last of four children of a very musical family (her father Albert was an organist, composer, and amateur organ builder; her eldest brother Jehan an exceptional composer, who was killed early in WW2 at the age of 29; her second brother, Olivier, a musicologist; her sister Odile, also musical, also died young in a tragic skiing accident). Marie-Claire, encouraged by Jehan, showed remarkable talent, and went on to become the first French woman to record the complete works of Bach (several times), and enjoyed an international reputation for her numerous recordings and concert tours. The list of her students is a 'whose-who' of the present-day organ world.
Madame Alain's performances are included in numerous PIPEDREAMS programs. Her commentary, in particular, is features in two special broadcasts:
Hers was a bubbly personality, a quick wit, an elegant turn of phrase (musically and verbally), and a virtuosic yet also deeply perceptive and expressive performance style, as attested to by her dozens of recordings.
Her health had been deteriorating in recent months.
She will be sorely missed.
Requiem Aeternum, Marie-Claire Alain.
(
5 Comments
)
Posted at 4:37 PM on February 26, 2013 by Rex Levang (0 Comments)
Filed under: On the air
Highlights from Feb. 26 to March 6
Wednesday, 8 pm: Minnesota Opera: Massenet's Werther.
Thursday, 3 pm hour: Regional Spotlight: The Ancia Saxophone Quartet and Wayzata Symphony Orchestra play Philip Glass.
Friday, 8 pm: Minnesota Orchestra: Music of Sibelius, Szymanowski, and Kodály.
Saturday, 11 am: Metropolitan Opera: Wagner's Parsifal.
Sunday, 6 am: Pipedreams: Thomas Trotter!
Sunday, noon: From the Top.
Sunday, 1 pm: SymphonyCast: The London Symphony Orchestra, with conductor Valery Gergiev and soprano Renée Fleming.
Monday, 8 pm: Saint Paul Chamber Orchestra: Dima Slobodeniuk leads music of Beethoven, Lindberg and Sibelius.
Wednesday, March 6, 7 pm: Carnegie Hall Live: Ensemble Matheus.
(
0 Comments
)