Classical Notes: July 26, 2012 Archive
Posted at 1:18 PM on July 26, 2012 by Brett Baldwin (0 Comments)
Filed under: Fun finds, In the media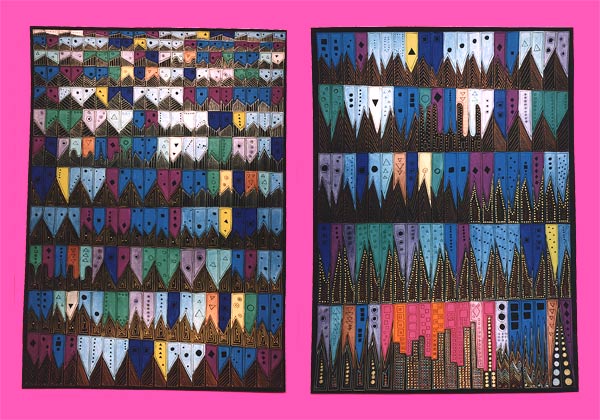 "Unraveling Bolero" by Anne Adams
Another great story from the folks at RadioLab. This one is about the amazing connection between Ravel's most well-known work "Bolero," and a woman, Anne Adams, who quit her job to become an artist -- a painter -- full time. She worked on a piece that ascribed colors, size and depth to the notes and their duration in "Bolero."
The painting was called "Unraveling Bolero"; what's most interesting is that both Adams and Ravel appear to have suffered from the same medical issues that caused them to lose their memories.
An enthralling listen; well worth 20 minutes of your time.
Posted at 2:30 PM on July 26, 2012 by John Birge (0 Comments)

Here's Esa-Pekka Salonen, conductor of London's Philharmonia Orchestra, putting down his baton to carry the Olympic torch, to the strains of his recording of Beethoven's Seventh Symphony.
I was fascinated to learn on NPR that the tradition of the Olympic Torch procession comes not from antiquity, but rather was invented by the Nazi Party for the 1936 Berlin Olympics. It's ironic: the same Nazi association makes it taboo to perform Richard Strauss' 1936 Olympic Hymn, yet the torch procession has become an institution.
Esa-Pekka Salonen carries the Olympic Torch from Philharmonia Orchestra on Vimeo.