CD Giveaway: Rutter - A Song in Season
Posted at 12:00 AM on May 16, 2011 by Rex Levang (15 Comments)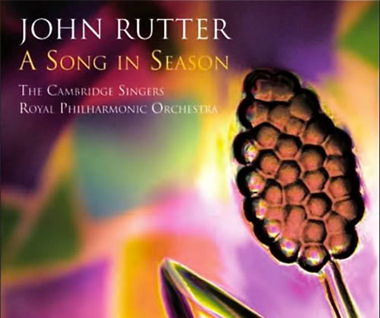 John Rutter is one of the best-known names in contemporary choral music. As a conductor, he's led his own choir, the Cambridge Singers, in outstanding recordings of Faure, Britten and many others. And he's won worldwide popularity as a composer with an instantly recognizable style, and his arrangements, especially of Christmas carols, are in the repertoire of choirs everywhere. Just days ago, millions heard the brand-new piece that he contributed to the royal wedding.

"A Song in Season" is Rutter's first disc in two years. It brings together 12 pieces written for a particular season, observance, or invitation. For example, "O Lord, Thou Hast Seached Me Out" was first performed on Ash Wednesday. "Veni Sancte Spiritus" was written specifically for the Choir of King's College. The occasion for "Lord, Thou Hast Been Our Refuge" was the 700th anniversary of the Worshipful Company of Barbers; how British can you get?
This week, we're giving away a copy of the album to five lucky entrants:
»Enter the Giveaway

»Official Rules


---
Comments (15)
I love your show! I'll still love it even if I don't win this disc. Thanks!
---
LOVED THE GLORIA YOU JUST PLAYED!
---
Enter the Giveaway
---
Loved the brass piece just aired! Thanks for the great music! Ooo, the flute/orchestra piece now airing is great too!
---
When I was in college the choir did a couple of John Rutter's pieces - they invariably ended up being my favorites. :)
Thanks so much for broadcasting samples of his new disc!
---
What beautiful music.
---
Entering the giveaway because it's beautiful music.. Thanks for having the sweepstakes.

---
Love John Rutter's music! I sing in the Bemidji Chorale, and it is seldom that we have a "Rutter-less" concert.
---
You have the most real music and relaxing music on the air. Thanks for keeping us all grounded to what being human really means.
---
The John Rutter piece just played was just beautiful.
I so enjoy the online streaming of Classical MPR!
---
Love love love Rutter.
---
We heard John Rutter's Requeim at a service at Pilgrim Congregational Church on Palm Sunday and I was touched by his music. I have all my radios tuned to the MPR classical station. MPR is my constant companion!!
---
I have always LOVED John Rutter's music. He has such a musical way of composing and arranging old pieces.
---
We saw a John Rutter conducted performance in London two years ago. He is a very pleasant, open, laid back, and friendly person. The warmth of his music is also present in him.
---
Rutter Rocks! Thanks for promoting such beautiful music.
---