Posted at 12:00 AM on May 16, 2011 by Rex Levang (15 Comments)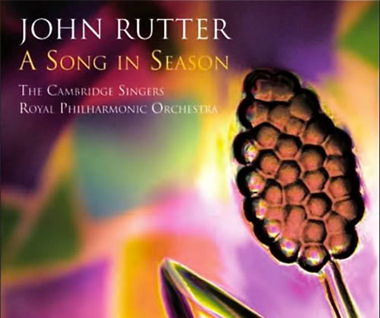 John Rutter is one of the best-known names in contemporary choral music. As a conductor, he's led his own choir, the Cambridge Singers, in outstanding recordings of Faure, Britten and many others. And he's won worldwide popularity as a composer with an instantly recognizable style, and his arrangements, especially of Christmas carols, are in the repertoire of choirs everywhere. Just days ago, millions heard the brand-new piece that he contributed to the royal wedding.

"A Song in Season" is Rutter's first disc in two years. It brings together 12 pieces written for a particular season, observance, or invitation. For example, "O Lord, Thou Hast Seached Me Out" was first performed on Ash Wednesday. "Veni Sancte Spiritus" was written specifically for the Choir of King's College. The occasion for "Lord, Thou Hast Been Our Refuge" was the 700th anniversary of the Worshipful Company of Barbers; how British can you get?
This week, we're giving away a copy of the album to five lucky entrants:
»Enter the Giveaway

»Official Rules


Posted at 5:09 PM on May 16, 2011 by Bill Morelock
Filed under: The Short Version
The boy from Lucca came from a long line of musicians. A lot was expected of him, but not nearly as much as he delivered. Along the way, he passed through the "just a kid" phase, combining keyboard wizardry with petty larceny. One early habit, though, common to millions, he would indulge till his dying day.