Posted at 4:00 PM on October 24, 2014 by Steve Staruch (0 Comments)
Filed under: Click on Classical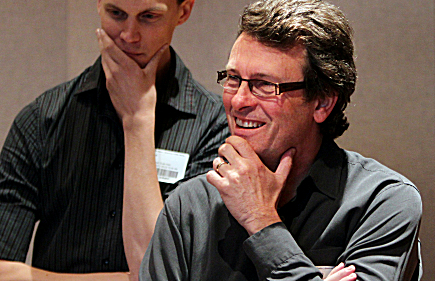 Composer Stephen Paulus (MPR photo/Jeffrey Thompson)

I'm back from vacation, and I have a number of very good things to share with you that you can find on Classical MPR's website this weekend.
Remember Stephen Paulus
Last Sunday, we lost one of the region's finest composers; Stephen Paulus passed away at the age of 65. But his music lives, and we've compiled
an archive of Paulus's music and interviews from Classical MPR
. You can listen to that, and you can also
read tributes from a number of people in the music world, and you can share your own thoughts
as well.
Celebrate Philip Brunelle
On Thursday, we presented a special called
"The Myriad Voices of Philip Brunelle"
, a special all about VocalEssence (and its predecessor, Plymouth Music Series). The program includes pieces by Argento, Larsen and Paulus, and is hosted by my colleague Bill Morelock.
On a related note, I had Dale Warland and Dominick Argento in for Music with Minnesotans this past week, and they spoke about a piece by Argento that VocalEssence will perform this weekend.
Read a delightful essay
Edward Kelsey Moore is a professional cellist with the Chicago Philharmonic and the Chicago Sinfonietta, and he's also the best-selling author of the novel,
The Supremes at Earl's All-You-Can-Eat
. Moore is going to write a series of essays exclusively for Classical MPR, and the
first one published this past Tuesday
. It's a
wonderful reflection about a useful expression Moore learned
while performing at a long and arduous gig.
Have a great weekend!
(
0 Comments
)