April 2013
The Mayo Clinic is proposing a 20-year, $5 billion investment plan to make its flagship campus in Rochester, Minn., a "Destination Medical Center." The clinic would invest $3.5 billion in capital improvements, and expects an estimated $2.1 billion in additional private investment. The plan originally asked state taxpayers to contribute more than $500 million to pay for public improvements like parking, transit, utilities, skyways and public meeting spaces. But a revised plan lowers the overall state contribution by hundreds of millions of dollars. It also asks Rochester to more than double its share of the project through local taxes and allows Olmsted County to authorize new local taxes for a transit line. The proposal is currently under consideration in the Legislature. With about 34,000 workers, the Mayo Clinic already is Minnesota's largest private employer, and it claims the expansion would create some 45,000 new jobs statewide.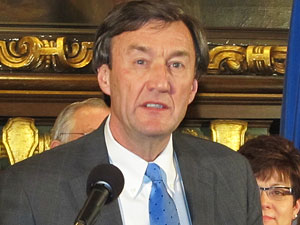 Minnesota got a brief shout-out in the State of the Union speech last night when President Obama pointed to the founder of Punch Pizza for the company's minimum wage practices. But Dr. John Noseworthy, President and CEO of the Mayo Clinic, was also at the address.
More about Mayo's plan
A summary of the Mayo Clinic's expansion plan and how it would be financed.
---
The Mayo Clinic calls its initiative the "Destination Medical Center," and has launched a separate website to garner support for the project.
About Mayo Clinic
Mayo Clinic is a nonprofit health care system, based in Rochester, Minn., with an international reputation. It provides health care services to more than one million patients each year at its clinics in Rochester, Phoenix and Jacksonville, Fla. It also conducts research and trains health professionals. Mayo Clinic reports total assets of more than $10 billion.
About Rochester, Minn.
City leaders have spent years planning how to grow this medical and tech-driven community in the middle of southern Minnesota farm country.
City of Rochester's official site
---
From MN Today
From Capitol View